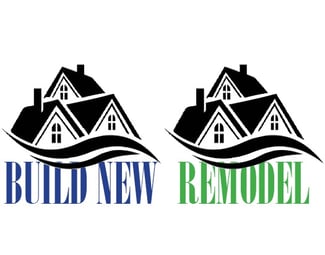 What should you do if your Poconos home no longer fits your lifestyle or your family's needs?
Maybe your family has grown and you require more space. Perhaps your children have moved away and you no longer need as many bedrooms as you once did. Or maybe the way you entertain has changed over the years, and instead of sit-down dinners, you tend to host more casual events.
You have a couple of major options: You can build a new home that better fits your current needs and tastes or you can remodel your existing home so that it matches your lifestyle. Which is right for you? Here are a few questions to consider when making your decision.
Do You Basically Like Your Existing Home? If you're happy with the style, comfort, location and memories associated with your existing home, it may make more sense to remodel. A good builder/remodeler can take a look at your current home, consider what your needs are and "rebuild" the interior of your home to better meet your needs and tastes. That could be anything from a "facelift" for your kitchen to creating an open floor plan in an older home to breathe new life into it. Staying put means you get to avoid the hassle of moving and keep the things you really like (location, neighbors, etc.).
How Much Do You Want to Change? Sometimes the extent of the change you want to make is more than a remodel can offer. For instance, if you want single-level living (but live in a two-story home), remodeling may not be a good option (unless you want to leave upstairs bedrooms for guest use only). That's when building from a new floor plan probably makes sense.
How Much Do You Want to Spend? It's always important to take a look at your budget before you make a decision. The homes we build in the Poconos range in price from $135,900 to $235,900 (naturally, customization and additional features also factor in to the overall cost). You can do a lot of remodeling for that price. With a new home, every part of the house will be brand new; when you remodel, however, only the parts you replace or add will be new. Depending on how much you love your existing home, newness may or may not be a deciding factor for you.
What About Maintenance? While remodeling can dramatically change the interior of your home, you may still be faced with maintenance of the exterior. That might be a big concern for you. It's true that new homes require maintenance, but it's to a much lesser extent than what an older home requires. By the way, maintenance expenses are something you should factor in when comparing remodeling and building costs.
Ultimately your decision comes down to what's most important to you and what will make you happy and comfortable within the budget you set. We can help you build the new home of your dreams or uncover the true potential of your existing home through a professional remodeling.