Available Properties in the Poconos
We have several choice lots available, ready to build on now! Below is a brief sampling, but we offer properties in other areas too.
Wooded, lake view and lake front - our lots all have that great Pocono Mountain feeling.
Our
on-site realtor will be happy to show you our different locations.
We can also build on your lot or help find a lot where you want to build!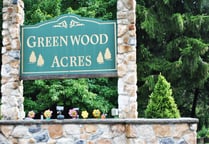 In the heart of an exciting mix of Pocono Mountains progress, Greenwood Acres community is merely minutes away from the downtown Village of Blakeslee. Boasting incredible views and activities no matter the season, Greenwood Acres is the perfect location to build your new home.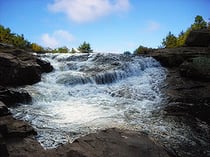 Tobyhanna Township is ideally situated in the center of Pocono Mountains growth. From Kalahari's expansion making the waterpark the largest in the nation to a variety of neighboring destinations on the cusp of an exciting area evolution. Embrace the natural beauty of the region, recognizing reasons why outdoor enthusiasts and residents love living in Tobyhanna Township, PA.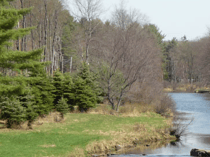 Thornhurst Township is the southernmost municipality in Lackawanna County. Situated along the Lehigh River, the community includes the Pinchot Trail System and the Lackawanna State Forest. Outdoor enthusiasts love the variety of activties offered in the area and residents greatly enjoy the natural beauty of the region while living in Thornhurst Township, PA.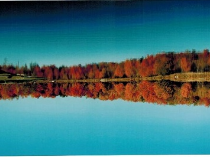 Arrowhead Lakes Community is a beautiful community in Pocono Lake, PA. The community provides easy access to a Arrowhead Lake and North Arrowhead Lake. Other features of the area include: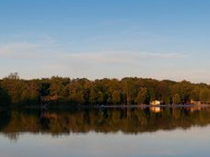 Locust Lake Village is an amazing home community located in Pocono Lake, Pennsylvania. The community is located off Route 940 and is 3 miles from Blakeslee. Some of the amenities and features of this community include: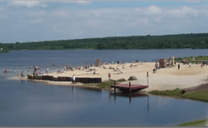 Towamensing Trails is a private residential lake community located in Carbon County on 903 in Albrightsville, PA. With the completion of the new exit off of I-476, Towamensing Trails is more accessible than ever before. Check out these features and amenities that this new home community offers: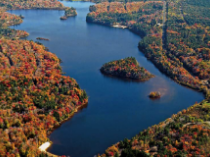 Lake Naomi is a recreational community located in northeastern Pennsylvania. The heart of this resort community is a 277-acre lake that can be used for boating, fishing, sailing, and other water activities! The community is perfect for a vacation home or single family home for residents interested in a relaxed lifestyle! The community features: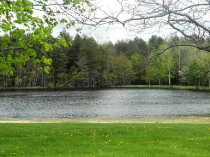 Camelot Forest is a forested community nestled in the Poconos! Enjoy single family living in a quiet, peaceful location surrounded by natural scenery! It's also only a few minutes from the Pocono Raceway and Pocono Mountain ski resorts.Just east of Blakeslee, Pennsylvania, it's also about 7 miles from the PA Turnpike Northeast extension on Rt 940.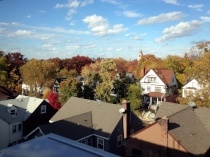 Blakeslee is a particularly small community, not having incorporated yet. Located at the intersection of Route 115 and Route 940, this small community is a quiet, serene getaway from the rest of the cities nearby. It's a beautiful place to call home, and a wonderful area to build a new home!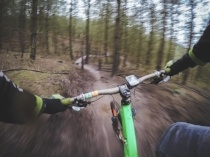 Mt. Pocono is nestled in the Poconos Mountains of Northeastern Pennsylvania. Filled with quaint charm, Mt. Pocono is bursting with adventure, scenery, and serenity. Whether you are looking to build a new home, build a vacation home, or build a home for retirement, Mt. Pocono is a great option.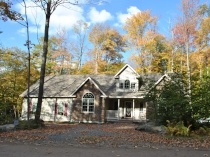 White Haven is a very popular borough nestled along the Lehigh River. Near Jim Thorpe and other outdoor adventures, it's the perfect location for those looking to get away from the bustle of the towns and enjoy a peaceful and picturesque home. White Haven is ideal for both a vacation home escape and a forever home.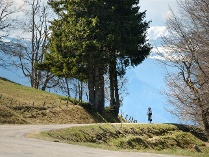 Nestled in the Poconos in Northern Pennsylvania, Brier Crest Woods is an exceptional place to call home. With serene waterscapes and incredible views from every angle, Brier Crest Woods is picturesque. It is perfectly located near amenities but also far enough away to be a perfect hideaway.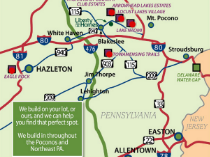 We can build on your lot or one of ours, it's up to you! But if you are interested in finding a lot or having us build on one of ours, view our Locations page and see a map of all our preferred communities in the Poconos!
Call us at 866-4-YOUR HOME for more info, and to see our homes.