Your Home, Your Way
The Liberty Homes Story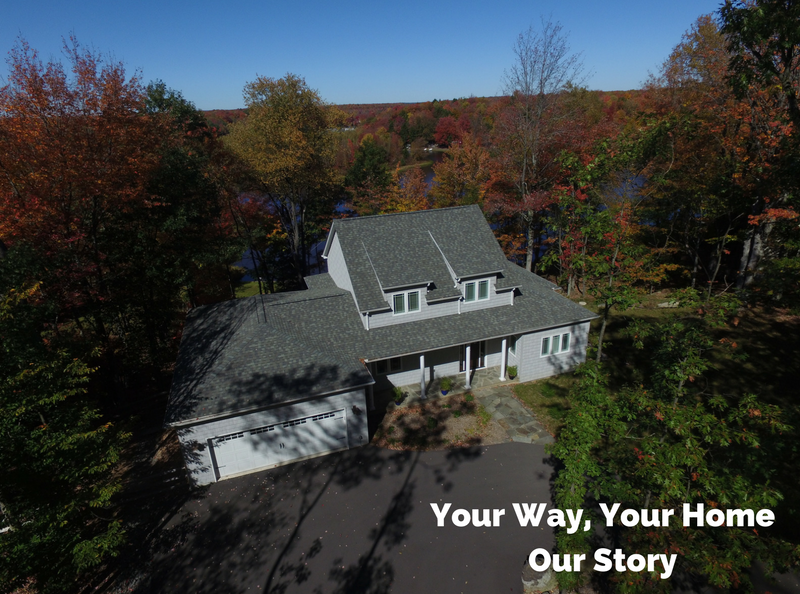 Our Story: An Introduction
Liberty Homes began like many other builders across the country. A few guys got together and started doing carpentry and other home-building-related work on the weekend. They quickly discovered that the synergy they had together was unique, and they soon took the entrepreneurial leap to start their company and pursue their dream of building homes for families. That was in 1978.
Since then, Liberty Homes has built thousands of homes and completed hundreds of commercial, remodeling and renovation projects. We have embraced our calling of designing award-winning homes for first-time buyers, retirees and vacationers who wish to enjoy the serenity of the Poconos with their loved ones.
Our customers come from near and far; and through their building experience with us, they've received a quality-built home, and in return we've gained another life-long friendship. It is a real joy for us to hear our customers say we treated them like family, and their affection for us is certainly returned. They are some of the finest people we've ever had the pleasure of knowing, and it is an honor to be the builder chosen to design and build their homes.
I am proud of the experience our team gives each potential homeowner who walks through our doors, and I am excited to share with you why, at Liberty Homes, we believe that we don't just build your home … we create a relationship with every home we build. Enjoy!
John Holahan, III
President
Where It Begins
Our story begins long before someone becomes one of our treasured homeowners and before we pound one nail into a board and excavate one inch of ground from this Earth. It begins before colors and fixtures are selected, and even before we design a home exactly to our customers' wants and needs.
Our story begins with the Poconos … the place where families come together. Pennsylvania's Pocono Mountains have long been a four-season destination spot for vacationers, but in recent years, the Poconos have become a haven for families who want to "get away" from it all. Some want to retreat for the weekend or for that precious summer vacation; others are approaching their retirement years and want to escape from a faster-paced lifestyle to enjoy their golden years in a quieter and more tranquil area. Yet others – often our young families –wish to get away permanently to an environment with better schools and less crime – a place that gives kids a childhood that involves playing outside on grassy knolls instead of city sidewalks.
Mel and Regina Lowden, from southern New Jersey, built their Pocono vacation home in 2008. And both of them enjoy their weekends in the Poconos so much, they said it changed their lives – for the better. "I have a big family, and they have taken turns coming here with their kids," said Regina. "We have actually gotten much closer with our family because they now spend their vacations with us in the Poconos."
"It's a fun place to hang out," Mel chimed in. "We have a couple of kayaks to paddle around in, or they can use the boat or swim in the lake."
"It's a gathering spot," added Regina.
The Pocono area is also convenient to many East Coast cities – including Philadelphia and New York City. While many of our weekenders will leave the city Friday after work and spend a weekend in our mountains, permanent residents, such as Helene Radley, appreciate the proximity to city life. "A quarter mile from my home, I can hop on a bus and be in New York City in an hour and a half," said Radley, a retiree. "From there I change buses to visit my daughter who lives in Boston."
Over and over again, our customers have told us that the Poconos is a place where their loved ones come together, and our homes help facilitate those gatherings. Whether it is for a weekend, a week, or a lifetime, our families find a renewed sense of enjoyment from living in the Poconos.
The Marti Family: Looking for an Affordable Place to Raise Their Family
Originally from the Bronx and looking for an affordable place to raise her two growing boys, Emily Marti quickly figured out where to move her family. Other than vacationing here for one week, she'd not spent any time in the Poconos, but she had plenty of coworkers who'd also made the transition from city life.
"I wanted to move where I could afford a house. I didn't want to be stuck in a dark, dreary apartment with dirty windows. The kids liked it here when we vacationed, so that got my head rolling with the idea of moving here," said Emily.
Emily started her builder search with pamphlets and Internet research, but it was after she placed a phone call to Liberty Homes that she got a "good vibe" and took the next step. "They were willing to meet with me on a holiday," she explained. After that President's Day meeting, she got the ball rolling on building her family's home.
One of Emily's concerns during the construction process was the fact that she lived so far away; it simply wasn't feasible for her to visit the job site every week. "Kevin knew I was a little nervous about this process – I'd never built a house before – and he took care of things. He recommended when I should come out, like when the house was under roof and when the plumbing and electrical were completed – but otherwise, he emailed me photos to keep me updated on how our home was coming along."
There were even some humorous moments along the way. "When they had to cut trees to make room for the house, he emailed me a photo that said, 'Let's take a moment of silence for the trees that lost their life so that a family can have a home.'"
Emily also appreciated the clear manner in which Liberty Homes explained the entire process and cost-structure to her. "I never got the impression that there were 'hidden costs' with building with Liberty. They were clear about what options were standard and what options were upgrades and would cost more. I was able to make informed decisions from the choices presented."
Emily and her family have lived in the Poconos a few years, now, and most certainly her life has changed. "I remember when the moving truck pulled away at 7 p.m. We were all hungry and that's when I realized I couldn't just call for take-out," she laughed.
But all kidding aside, she loves the schools that her kids are enrolled in (and that there are no additional expenses for school supplies like there were in the Bronx). Her kids enjoy playing outside, and she loves the natural light and openness that is found in her home. "I love the way I feel when I am in my house," said Emily.
A Different Approach to Building Homes: Take Your Time
Here are the facts: Most builders will tell you that they are quality builders, and some will even tout the awards they've won. We will do that, too. The truth is that if you look at Liberty's list of components that go into every home and compare it to other builders in the area, the lists will actually look similar. There may be a few variations here or there – depending on what is a standard versus optional between the builders – but the bottom line is that we all build our homes to the building code.
But that's where the similarities end.
Liberty Homes has a unique approach to building our customers' homes. It isn't about listing the specs of the homes we build, at least not at first. It's about making sure your home fits you completely. With some customers, this process can be swift – meaning from the time we meet until the time we start building your home, it may only be a matter of weeks. For others, the process may take longer – much longer – years longer – and that's perfectly okay with us.
For Jon and Sheila Breisinger, for example, discussions with Liberty began three years before they decided to build. "We would visit them two or three times a year just to get a little further in the process [of building with them]," said Jon.
Lou & Jane Casagrande: Retirement Years - "The kids are gone; It's now time to live our lives"
"We courted Liberty Homes for two years before we finally started building with them," said Jane Casagrande. She and her husband, Lou, are retired and originally from Staten Island, New York.
Lou and Jane spent much time vacationing in the Poconos, and as they approached retirement, they opted to move to here. "The Poconos were like a second home to us. We like the rustic nature and simplicity of life here," explained Jane.
So with the decision made, Lou, already retired, spent a considerable amount of time researching builders. He gathered brochures, searched the Internet and found that Liberty had the best reputation. "We did look at other builders, but found them to be a little pushy, which turned us off," said Lou.
"Some were down-right rude," added Jane.
But their experience with Liberty was different. "There was no pressure," said Lou. "They took us around the area and showed us whatever community we wanted to see and answered our questions."
"They listened to us," said Jane. "They made recommendations of what areas and communities would be a better match for the lifestyle we wanted. [Liberty] was so patient with us because we weren't certain what we wanted. I really felt like we were guided along in an ethical manner."
And this was TWO YEARS before they were ready to begin building their retirement home!
"We were very honest with Liberty. We told them that we were not ready to move and build our home for another two years. We didn't want to waste their time, and we would have understood if they'd told us to come back when we were ready. But they didn't. Instead, they took the time to show us different communities and educate us about the area," said Jane.
"That's what turned us onto Liberty," added Lou.
Fast-forward two years. After finding and purchasing the perfect lot, Lou and Jane put their Staten Island home on the market, never in a million years thinking it would sell in less than two months. And when it did, they called Liberty Homes and explained their stressful situation. Liberty responded by finding rental housing while their home was under construction.
Jane concluded, "They are a class act. They went above and beyond to accommodate us. They're like family."
A Different Approach to Building Homes: Find Your Personal Details
When you build with Liberty, you have a wide selection of floor plans to choose from – but that's not where our creativity stops. In fact, more often than not, that's the launch point for our customers as they have ideas of their own that they want to incorporate into their home. And why shouldn't they?
When we say we are a custom home builder, we actually mean it. You can ask us to modify one of our existing floor plans to suit your lifestyle or you can come to the table with your wish-list of ideas, and together we can design or find the floor plan that's right for you. We are sincere in our quest to build a house that meets your specifications.
"I had some pictures of kitchens from homes in South Carolina," said Helene Radley. "Liberty accommodated those ideas into the floor plan of our house."
Jon Breisinger had different type of request regarding the energy efficiency of his home. "I asked Liberty to do an energy study, and based on the size of the home we were building and the average temperatures, we compared various heat pump systems. In the end, we decided to go with the most efficient heat pump available because of the long-term savings on our energy bills."
John & Loretta Boraccorso: A Vacation Home Full of Details
As soon as New Jersey resident John Boraccorso saw the lot with his own eyes, he immediately made an offer. The picturesque piece of land he couldn't refuse sat along the Lehigh Gorge in Jim Thorpe, Pennsylvania. "I could build a home in the middle of the woods and that wouldn't do anything for me. But this [location] is equivalent to a shore house because it is right along the water," explained John.
The Boraccorsos' initial plan for the lot was to purchase it as an investment, but soon thereafter, they began entertaining the idea of building a vacation home for themselves.
"We looked at hundreds of floor plans," said John. "I was looking for a house that would face the gorge with the living room at the front of the house so we could enjoy the view. Most home plans had the living room at the back."
"Then we talked to Liberty Homes, and even though the floor plan we liked only was 1,600 square feet, because of the open floor plan, it felt huge. I couldn't believe the way space was utilized," said John.
He continued, "Loretta had some ideas to modify the basic design, and they were very amenable to any suggestions we brought to the table. In fact, they jumped right in to make her modifications a reality."
During production, John and one of his construction-savvy friends stopped by to see how the home was coming along. John noted that he and his friend were both impressed with the quality of material used and by the attention to small, out-of-sight details – such as sealing along the entire perimeter of the house. "Liberty actually sealed all the floorboards against the outside walls to make the home airtight," said John.
When asked what surprised them the most about their building experience, John was quick and sure with his answer: "How much they listened to us and were willing to work with us. While other builders told us it was 'impossible' to build the home we wanted on our lot, we didn't get that answer from Liberty."
"The entire process – from start to finish – was easy," he concluded. "They made us feel extremely comfortable throughout the building process."
A Different Approach to Building Homes: Care Beyond Building Your Home
Liberty is more than a home builder. We take pride in connecting potential homeowners with the Poconos community. One of the ways we accomplish this is by helping people "try on" homes before they ever sign a contract.
For Jon and Sheila Breisinger, building a home in the woods was something they always wanted to do, but what they got with Liberty was such a treasured experience.
"Peter took the time to interview us to find out what we were looking for in terms of a community," said Sheila. "Where did we want to move? What qualities did we want in our piece of land? How active did we want our community to be?"
From there, Peter took the Breisingers on a tour to introduce them to the differing lifestyles each community held and showed them what lots were available. Sheila explained: "When it came to picking a piece of property, Peter gave us the most sincere advice. He said, 'Choose with your heart.' And that's what we did."
The goal for Liberty isn't just to build your home; the satisfaction comes from welcoming another friend into the Poconos community.
On the topic of community, Sheila also commented: "Liberty connected us with others in the community. When we were looking into financing our house, they didn't just make a recommendation. They actually connected us with the people we needed to talk to, so by the time we called the bank, we were already on a first-name basis; it was more personal."
Her husband Jon added, "We weren't told to call an 800-number and talking with someone who wasn't even from the area."
When you build a Liberty Home, you aren't just buying the residential structure; you are purchasing the care and attention that goes into each Liberty home. We want to make sure things are right – to your satisfaction.
When Emily Marti was ready to take possession of her home, she got more than the keys she was expecting. "When we came for our walk-through, Peter told us to go around the house with a notebook in hand and make notes on any little thing that may be wrong or that we didn't like. He was basically telling us to make a list of things that needed fixed, and they'd come back and fix them. What builder does that?"
Customers have told us time and time again that we bring with us peace of mind, and that's because we treat our customers like family.
Helene and her husband, Wayne, looked at several lots before deciding on one in Split Rock. "Without Peter helping us, we would have been in trouble because one lot we liked had water on it. Once Peter told us that, we ruled it out immediately," said Helene. "He visited each lot on our list and told us how we could position the home on the lot until we found one we liked."
Jon & Sheila Breisinger: Stellar Communications
When Jon and Sheila began "courting" Liberty homes, it was years before they were actually ready to build their vacation to retirement home, but that wasn't a problem for Liberty Homes. They encouraged the Breisingers to take their time, and when they were ready, they'd be there to build their home.
"We had the intention of buying the lot and once it was paid off, we'd build. But we kind of got itchy feet and the interest rates were right … so we took the plunge and built ahead of schedule," said Jon.
But it was Liberty's transparent construction process that truly won them over. Since the Breisingers were relocating from Allentown, they were reliant on Liberty to keep them informed. "I thought they communicated well with us," said Jon. "They took pictures at various stages of the construction process and it really helped us understand what we were getting."
Jon went on to explain that Liberty's pictures of the mechanical systems of the house – from the septic tank and sand mound to the hole in the foundation for the sump pump – were all extremely helpful. "When we had a question, they got back to us immediately with the answer."
A Different Approach to Building Homes: Creative Solutions
Whether it is working together to position your home on your lot, or rearranging floor plans, Liberty gives the time and attention to the details you want in your home. We are all about finding creative solutions to make your home exactly what you are looking for. We provide advice to help you make a decision that's right for you.
When John and Loretta Boraccorso started building their vacation home, John assumed that he didn't want electric heat – because he'd always heard that electric was more expensive than natural gas. "John [Holahan] gave me the pros and cons of each and a lot of detailed information so I could make a sound decision," said John. "In the end, I opted for electric. It was the right choice for our lifestyle."
Helene Radley wanted to make sure the home she built was precisely what she wanted for her retirement years. Using a pre-existing Liberty Homes floor plan, she worked with Liberty to modify it to her vision. Her customizations included slight changes to the kitchen and bathroom floor plans, adding a three-season room, adding a three-car garage, and upgrading the HVAC system to include a 5" filtration system to help with her allergies (and improve the overall indoor air quality). "Whatever I asked for, they took care of it," explained Helene.
Chuck, Carol & James Waygood: Unique Addition Is the Solution
When Chuck Waygood contacted Liberty Homes to build his son, James, a home on his property, no one was expecting the difficulties associated with getting this project started. Chuck wanted to build a separate handicapped-accessible residence for James, who is confined to a wheelchair. The township wouldn't let him build a second structure without sub-dividing the property, something Chuck didn't want to do. Most builders would have thrown up their hands and said, sorry about your luck, but Liberty continued to brainstorm with the Waygoods. "We came up with the idea to build an addition with a 70-foot covered walkway that connects the two homes," said Chuck. "This idea seemed to satisfy the zoning officials."
One of the primary concerns of the Waygoods was preserving their tranquil, wooded lot. They didn't want an unattractive walkway between the two homes, yet they wanted to be sure that digging footers for the raised wooden walkway didn't kill the root systems of the trees. "The carpenters figured out a way to solve that problem by designing the walkway with turns in it … as if you are walking along a nature trail," said Chuck. James added, "It just meanders through the woods."
James loves the thoughtful design aspects of his home. "The house has so many open spaces. The hallway and doorways are wide. I can maneuver anywhere in the house, and there's no one spot that I feel cramped and can't turn around. Even when I vacuum, it's easy to get around," he said. "My new 'addition' gives me my privacy and freedom."
Our Story Never Really Closes
For many builders, once the keys are handed over to the homeowners, the job is considered done. Sure, you may get a Welcome basket from them or even a Christmas card that first year, but the truth is, to those builders, the job is closed and they are off building other homes.
That's not us.
The closing of the house isn't the end of the relationship we have with our homeowners. It's more like somewhere in the middle. Homeowners trust us to keep tabs on their vacation home when they are away by tossing us the keys on their way back to the city. Homeowners stop into our offices just to say hi, and when they see us walking through their neighborhood, they invite us over to sit on their porch for a chat. Over the years, we've become friends with many of our homeowners. And that's exactly how we wish it to be. That's what makes the Liberty Homes experience complete. It is the life-long friendships we've created with our homeowners over the years.
If this is the type of building experience you want – one that's on your timeframe, incorporates your personalized creativity into your home, and gives you peace of mind throughout the building process and beyond – give us a call. We'd welcome the opportunity to introduce you to our community … and start our friendship with you.