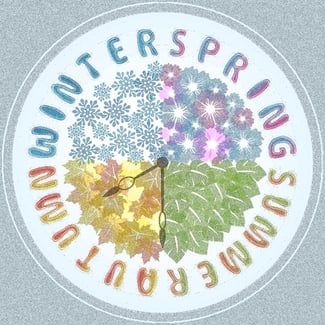 The chances are that if you ask four Poconos residents which months are the best months to spend in the Poconos region, you'll get at least five different answers. That's because this truly is an "Area For All Seasons." Whatever you like to do, you can find it in the Poconos. Your favorite activities will probably determine your answer to the question about when are the best months to spend here.
Here's what I mean.
Winter: if you like skiing, snowshoeing, tubing, and other snow sports, you may just think that the Poconos was created specifically for you. You can take your pick from multiple great ski areas that cater to a wide variety of skill levels, including: Camelback Mountain, Shawnee Mountain, Jack Frost and Big Boulder, Blue Mountain, and Montage Mountain—just to name a few. Click here for more information on these ski resorts and for links to their respective websites. And if you occasionally long for the warm and wet days of summer in the midst of winter, you can always visit Great Wolf Lodge, Camelbeach Mountain Water Park, or Kahlihari Resorts or one of the Pocono destinations for some wet and wild indoor water fun!
Spring: The springtime months are a great time to enjoy hiking, and exploring may of the great parks, waterways, and waterfalls the Poconos have to offer. You can start with Bushkill Falls (the "Niagara Falls of Pennsylvania") or check out one of the many trails and parks in the region for a great workout with fantastic sights.
Summer: Of course you don't have to limit your hiking or other outdoor activities to the springtime. Whether you choose to explore the 70,000 acres of the Delaware Water Gap National Recreation Area, or take a ride on the Lehigh Gorge Scenic Railway, or wander around the quaint town of Jim Thorpe (and enjoy shopping, dining, and exciting nightlife), there are plenty of outdoor activities (and we haven't even mentioned boating and fishing!).
Fall: Of course there are those who will passionately tell you that the time to visit the Poconos is the fall, when the foliage is at its glorious peak. People in this area take their "leaf-peeping" seriously. There are miles of roads to drive and paths to take that will leave you with enough colorful memories to get you through the winter.
So when is the best season to spend in the Poconos? It all depends on what you like to do. Personally, we at Liberty Homes love all of the seasons here. It's why we live here! We'd love to share the area with you. So if you'd love to live in a place where there's always something great to do all year round, we invite you to check out some of the great home plans and discover some of the fantastic communities in the area. When you live in the Poconos, it's like you never have to return from vacation!