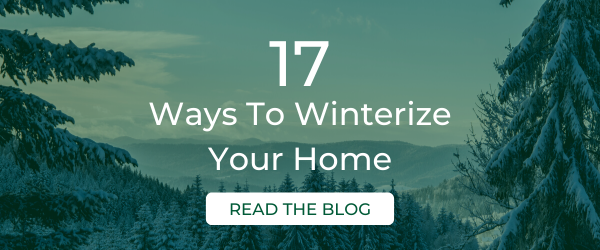 Winter means colder months, and if you haven't gotten your home ready for the dip in temperature, there's still time to do many of these home maintenance and energy-saving tips. Up to 60% of our energy bill goes towards heating the house. Make sure your house is as energy-efficient as possible. Easy things like reversing the blade rotation on ceiling fans and changing your furnace filters regularly can save you a lot of money. Check out these 15 steps to winterize your home from Bob Jenson Air Conditioning and Heating to learn more.
Do Preventative Maintenance on Your Heating System
Winter means cold, and the cold weather means you'll be turning up the heat on your furnace. It's a good practice to have a technician inspect your home heating method before the winter months to ensure everything is working as it should. Everyday items to account for include making sure the system is clean and free of debris, as well as making sure all components are performing the essential duties to keep your home warm this season.
Reverse Your Ceiling Fans
Reversing your ceiling fans is a simple and effective way to make sure your home is ready for the winter months, and you can likely do it yourself! During the winter, your ceiling fan should rotate in a clockwise direction, which will create an upward draft and push the warm air back down. When accessing your ceiling fan, make sure you have a sturdy ladder, placed on a level surface.
Inspect Your Roof
Take a close look at your roof. Are there any areas that look damaged or disheveled? Can you see any signs of animal disturbances or holes that may cause leaking during winter storms? If you notice anything concerning, you may want to call a professional to make the needed repairs, before the cold and wet months of winter.
Check Your Windows and Doors
Windows and Doors are the perfect places for cold winter breezes to sneak their way into your home. While you're winterizing your house, check that the windows and doors are correctly sealed and that wind can't be felt seeping through the cracks. One way to check that is to light a candle and hold it near windows (keep it away from drapes) to see if outside air gets in to make it flicker. If there is a noticeable breeze, use caulk to fill the gaps. If there are gaps larger than the width of a nickel, you may need to re-caulk around the exterior of the window or door.
Check All your Exterior Walls for Holes that Can Let in Cold Air
Pay close attention to electrical outlets, dryer vents and pipes that lead from the inside to the outside. Use caulking or insulation to seal these leaks. And don't forget to disconnect all garden hoses outside the house. Frozen garden houses can actually cause outside faucets to leak into the house.
Clean the Gutters
Cleaning the gutters in the fall is an obvious step, but one that many homeowners forget about. The autumn leaves are beautiful, but once they fall from the trees and into your gutters, they can cause problems for your home. Clogged gutters lead to water runoff, which can damage your roof and siding and can even cause leaks in your home. Once a good portion of the leaves have fallen, take the time to clean out your gutters to allow water to run where it should.
Divert Water
Once you've cleaned the gutters, consider diverting your spouts further from the foundation of your home. Adding in an extra few feet to where your water is deposited can help prevent erosion to your foundation and flooding around your home. A good rule of thumb is to have all water deposits three to four feet from your home's foundation.
Turn Off and Drain Exterior Faucets
Start by turning off the water supply to any exterior faucets and disconnecting any garden hoses. Then be sure to drain the plumbing, so any leftover water doesn't freeze, expand, and burst your pipes during the winter. Drain any other exterior item that collects water to prevent damage from ice.
Mulch Your Fall Leaves
Raking up piles of leaves and jumping into them can be a fun fall tradition, but mulching your leaves can help nourish your lawn throughout the winter. By mulching your dry leaves into dime-sized pieces, you can spread among the blades of grass. As the leaves begin to decompose, they will nourish your lawn and keep it healthy.
Winterize Your Lawn Mower
Stowing your lawnmower for the season can be a good feeling, but to avoid problems in the springtime, make sure you store it correctly. Run your lawnmower until all of the gas is gone from the tank. If you leave gasoline in your mower over the winter, the gas will likely decompose and could cause problems in your lawnmower come springtime.
Don't Prune Just Yet
Pruning your plants shouldn't be completed until late winter. If you prune your plants too early, it can cause dry branches and weak growth in the spring. Most plants are dormant in the winter, which means they aren't growing much. Let your plants grow until late winter or early spring for a healthy regrowth during the springtime.
Test Your Sump Pump
Now is a great time to test your sump pump. While you should check it every few months, it's especially important right after a dry season or right before a wet season, like winter. To test your sump pump, slowly pour gallons of water into your sump pit and wait for the pump to begin. If it doesn't turn on, you'll want to get it fixed before the snow falls to make sure your basement doesn't flood.
Sweep Your Chimney
If your home has a cozy fireplace to help warm your home this winter, make sure it's ready to host fires. Chimneys need to be clean and free of debris. You also want to ensure your fireplace vents are clean and free of debris before starting your first fire. Call a professional to sweep your chimney and check the chimney vents for functionality.
Check Your Alarms
It is recommended that homeowners change the batteries in smoke alarms twice per year. Winterizing is a perfect time to check your alarm and replace the batteries. You should also have and check your carbon monoxide detector. This device is especially important if you use any gas appliances during the winter months.
Protect Your Pipes
Broken water pipes are one of the worst things that can happen, and in addition to being an inconvenience, your home can sustain serious damage from water leaks caused by busting pipes. As it's cold in the Poconos during the winter, and even if your home is warm, your pipes can still freeze. Add a protective layer to your pipes by wrapping them in a foam insulation can help assist in eliminating potential bursts. This will keep the pipes warmer and prevent pipes from freezing and breaking. In cases where simple insulation doesn't provide enough protection, you may want to install heat tape or heat cables.
Add Home Insulation
Check the insulation in your home before the winter. This gives you a chance to add insulation in any spots that seem light. Experts recommend a minimum of 12 inches of insulation throughout your attic. The proper amount of insulation will help keep you warm this winter, deter pests, and prevent mold in your home.
Keep Your Heat at about 50 Degrees
A lot of homeowners turn their thermostats way down (or even off) to save money when they are away from the house for long periods of time. That may save a little bit on heating costs, but it can set you up for frozen pipes in the house. You don't have to keep the house really warm, but you will want it to be warm enough to protect pipes that are close to exterior walls (in the kitchen and bathrooms). Another help is to leave cabinet doors open to allow heat to reach pipes if you'll be gone for a long time during cold snaps.