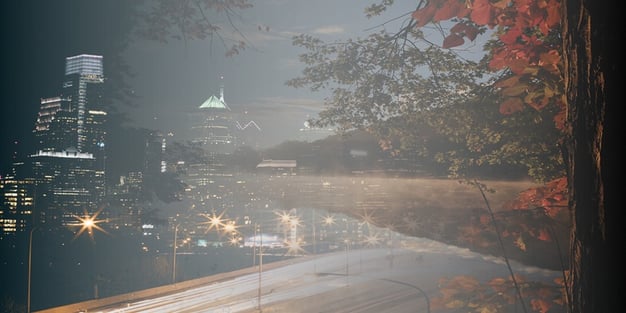 Large metropolitan areas such as New York and Philadelphia seem to have it all. They've got culture, shopping, amenities, nightlife and fine dining. Sure some of the residents of those big city areas will escape to the Poconos for skiing in the winter or outdoor activities at other times of the year. But increasing numbers of them are taking things a few steps further. Here's a look at why people are moving to the Poconos from New York and Philadelphia.
Homeowners Want More Space
In most metro areas there's really not a lot of room for expansion. Properties in the Poconos offer more opportunity to spread out and enjoy a little bit of privacy. It offers a chance to look at the beautiful scenery instead of staring at your neighbor's siding. On top of that, many of today's floor plans are designed to create a feeling of more space inside the home as well (check out our great selection of floor plans here).
A Slower Pace of Life
Visitors from large metro areas often retreat to the Poconos in order to step back from the fast pace of life in the City or even the suburbs. There's no doubt that things are a little more relaxed in this area. You can actually enjoy doing things with your family without fighting crowds and traffic all the time. And just because the pace is slower, that doesn't mean there aren't plenty of activities all around you.
Who Knew It Was So Affordable?
Housing prices in the Poconos are more affordable than they are in metro areas such as Philadelphia or New York. Many visitors are surprised at how much more home they can afford when building in this area. And New Yorkers, in particular, will love the lower tax rates in Pennsylvania. Many of the floor plans that we offer plans (such as the Liberty Hill, shown here) give you the option to expand and add rooms on the second floor if the need arises.
Opportunity to Invest in the Future
While people have flocked to the Poconos region for years as a popular vacation destination, an increasing number of visitors from Philadelphia and New York are investing in vacation homes in the area. Their families can enjoy visiting now—and then in the future, they can retire to a place that's quiet and offers a lower cost of living. There's another benefit as well. Adult children who have fond memories of family vacation times with their parents in the Poconos are more likely to visit regularly—with their own kids in tow!
There's Still Easy Access to the Metro Areas
You don't have to give up your connections to family, friends, or even business colleagues if you move to the Poconos. The driving distance to both New York and Philadelphia is quite manageable and, with the possibility of passenger rail travel looking more likely, getting in and out of the city will be even easier.
Maybe all of those people coming here from New York and Philadelphia are onto something! If more space, extra affordability, investment in the future, and easy access to major metro areas is something that sounds good to you, we invite you to visit and see for yourself.