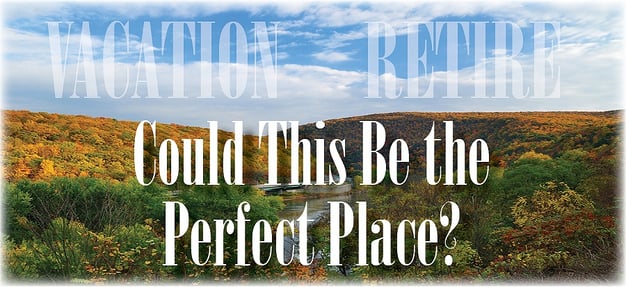 It seems that certain areas are ideal for certain pursuits. If you want great live theater and fine dining, it's hard to beat New York City. If you're looking for a connection to early American history (and some fantastic cheese steak sandwiches), Philadelphia is a great place to go. When it comes to finding a place to build a vacation home or a home for your retirement, the Poconos may just be the perfect place.
What makes the Poconos region such a great choice for those particular pursuits? Let's look at a few of the reasons the Poconos may be calling you—whether it's for vacation or as a place to relax and retire.
Location
If you live near New York City or in the vicinity of Philadelphia, you can truly get away from it all without taking a massive road trip. Even if you live in Manhattan, you can be in the Poconos in just two hours (it's under 100 miles away). If you happen to be in the Philadelphia area, you're looking at roughly the same amount of time (and just over 100 miles). While it's not that far to drive, you'll feel as if you're a million miles away from the noise, rush, and stress of city or suburban life.
When we talk about location, we're talking about more than just close proximity to major metro areas. The Poconos region has an abundance of small towns and villages where you can settle and build the vacation or retirement home of your dreams. Click here for a closer look at some of those towns and villages.
There are also quite a number of communities that afford fantastic views and plenty of amenities. Whether you're looking for wooded properties, a lakefront community, or a home with a great lake view, you'll find what you want. Here's a look at some of the communities where we're building homes right now. Of course, you can always look for that perfect stand-alone lot that's just right for your dream home.
Property Values
Building a retirement or vacation home is an investment in the future. There's no denying that property values took a big hit back around 2008. Since that time, however, things have rebounded nicely. If you consider a community such as Mount Pocono, the home values have increased 15.7 percent over that past year, according to Zillow. While nobody can guarantee what the housing market will do, purchasing a new home is currently a pretty sound investment. And even if you purchase it initially as a vacation home, you can turn it into a home for your retirement when that season of life rolls around.
Cost of Housing
Housing in the Poconos is surprisingly affordable. Even though the housing market has rebounded very nicely, you can still get a great deal on a new home. Here's a post that gives you a ballpark cost for housing (in Pocono Lake), but also offers tips for things you can do to control your building costs on a new home.
Cost of Living
Another advantage of Poconos living is that the cost of living in the area is low. As an example, the cost of living in the picturesque town of Jim Thorpe is 4 percent lower than the rest of Pennsylvania. If you compare it to other places on the East Coast, the difference is even more dramatic. If you go to AreaVibes.com, for instance, Jim Thorpe has an index of 96 (with 100 being the national average. Newark, NJ, by comparison, has a rating of 115. Some of that is due to the fact that taxes in Pennsylvania are considerably lower than in places such as New Jersey. That's an important factor when considering where you might live if you're on a fixed (retirement) income.
Easy Access to Lots of Great Activities
Naturally, if you move to a place like the Poconos, you won't spend all of your time sitting around inside your home. While the pace of life is much more leisurely in the Poconos, this is a great place for an active lifestyle. If you enjoy hiking, you'll want to check out this article about the best hikes in the Poconos. If you have kids (or plan to have grandchildren visit you) you can take advantage of some of the biggest and best water parks in all of the United States! Do you love golf? You can play to your heart's content in the area. Here's a look at 8 amazing golf courses in the Poconos. In addition to a plethora of great activities, you can also find great places to eat. Here's a look at a few local favorites.
It's a Great Place to Be Any Time of the Year
For many people on the East Coast, the Poconos is synonymous with skiing. And while there are a lot of great ski areas throughout the region, the Poconos Mountains truly are a full four-season place to have fun for all ages.
If you're wondering where to retire in Pennsylvania, or are thinking about where the best place to build a vacation home in Pennsylvania might be, contact us. Not only can we help you find the best location to meet your specific interests, but we can also help you select a floor plan that works best for you—and can be customized to your specific needs and desires.