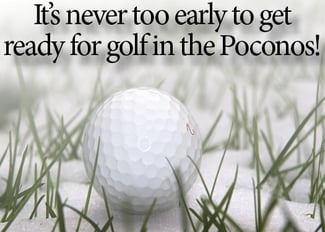 Outdoor life in the Poconos is about much more than wooded trails, waterfalls, and winter ski runs. The Poconos region is home to some of the finest golf courses you'll find anywhere in the country. It may a bit early for golf at the moment, but now's the time to take a look at 8 of the most amazing golf courses within easy driving distance so that when the weather warms up you'll be ready to tee things up!
1445 Big Ridge Drive, East Stroudsburg, PA, 18302, (570-223-8099).
If you're looking for 18-holes of championship golf at its finest, the Country Club of the Poconos Golf Course, in Marshalls Creek, Pennsylvania should be on your list. In addition to letting you enjoy spectacular nature, the course also offers challenging golf with wetlands to carry; hills to climb; elevated greens and strategically placed sand traps.
The course is open to the public and welcomes all golfers to enjoy an experience normally found only at a private membership course.
125 Country Club Dr, Greentown, PA, 18426, (570-857-0251)
This course is situated on 140 acres of the Tanglewood Lakes Community Association. Paupack Hills Golf and Country Club includes an 18-hole championship golf course designed by Tom Fazio, one of America's Premier Architects. Members can also enjoy a unique dining experience in the beautiful bar and restaurant overlooking Lake Tanglewood. The course is open to the public.
One Skytop, Skytop, PA, 18357, (855-345-7759)
This course is the premier family resort in the Poconos. Nestled amid the stunning backdrop of the region you'll find 18 holes of award winning, championship golf that's rated 4.5 stars by Golf Digest. Enjoy a mountain-style track that plays over rolling terrain and boasts wide, tree-lined fairways and small greens that challenge players of all levels. This award-winning course (open to the public) incorporates water on two holes and plenty of strategically placed bunkers that provide an enjoyable challenge for casual and serious golfers alike.
312 Woodland Rd. Mount Pocono, PA, 18344, (1-877-682-4791)
Each hole at the Mount Airy golf course is inspired by Sports Illustrated's "Best 18 Holes in America" and reinterpreted by master golf architect Hal Purdy. Test your skill on a course that many consider "The Champion" of Pocono Mountain courses. Known for its distance drives and 6,500 yards of manicured greens, the course will challenge your accuracy with dramatic elevations and strategically placed bunkers. All that happens while you take in soothing streams, lush meadows and mountain vistas.
Rt. 940 and Jackfrost Mountain Road, Blakeslee, PA, (1-570-443-2414)
This has been named "One of the Top 10 Courses to Play in PA" by Golfweek. This large (7,200+ yards) mountain course was designed by Terry LaGee stretches out over magnificent terrain. Jack Frost National Golf Club embraces the Pocono Mountains with all of its magnificent vistas and elevation changes. Different than most mountain courses, Jack Frost National also provides wide fairways, easily identified target areas, few uneven lies and no blind shots. Its player friendly design gives players of every skill level an enjoyable golf experience.
100 Shawnee Inn Drive, Shawnee on Delaware, PA, 18356, (1-844-264-3631)
This course invites you to, "Take a deep breath, close your eyes and image standing on an island surrounded by the gentle flowing whispers of the Delaware River. This is golf at The Shawnee Inn and Golf Resort. " Completed in 1911, the 45-hole Pocono Mountains golf course is A.W. Tillinghast's first-ever design. Rich in golf history, Shawnee boasts a long line of golfing greats who have played our championship course, including Walter Hagen, Sam Snead, Arnold Palmer, Lawson Little, Long Jim Barnes and Johnny Farrell.
270 Golf Drive, Buck Hill Falls, Pennsylvania, 18323, (570- 595-7730)
Welcome to where loyalty to the soul of the game is a century-old tradition. Opening its first nine holes in 1907, Buck Hill Falls established itself as the premier course in the Poconos. The eighteen holes added since have only increased its fame. Play through the wooded, rolling, mountainside terrain and experience the timeless design of legendary golf architects Donald Ross and Robert White. Ridgeline silhouettes, relentless undulations, and classic subtleties punctuate this 27-hole course framed by forested mountains.
731 Welcome Lake Rd. Hawley, PA, 18428, (1-800-966-3562)
A golfer's paradise awaits you. Enjoy 18-holes of championship, par-72 golf on a course that winds its challenging way over 6,579 yards of fern-carpeted forest, lush wetlands and broad upland meadows. With four sets of tees and alternating pin placements, a variety of challenges await golfers of all skill levels.
GOLF Magazine calls this course "one of the finest courses in America" and Golf Digest named it one of their "Best Places to Play" with a "4.5 Star" rating.
It's never too early to get ready for golf in the Poconos! So do your research and get your game on. The grass will be green before you know it!