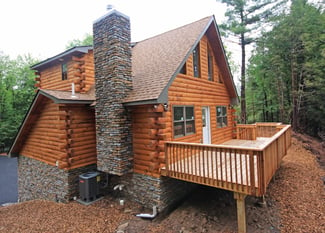 People have been retreating to the Poconos for decades to enjoy the beauty and peace and quite of the region. There's no question that the area is a popular vacation destination. But should you build a vacation home near Pocono Lake? Here are a few reasons that a vacation home just might make sense.
All The Comforts of Home: While it's nice to get away regularly, nobody loves living out of a suitcase. A vacation home offers you all the comforts of home—minus some of the distractions and hassles. And although it's fun to do fun stuff on vacation (see below), sometimes all you want to do is kick back and relax and enjoy the scenery around you. Staying in a motel just doesn't provide the same experience. A vacation home offers the best of both worlds: vacation and home!
A Good Investment: We're not financial advisers and aren't qualified to present financial consultation, but homes have historically been a good long-term investment. And as Will Rogers (or Mark Twain—there's some debate about that!) famously said, "Buy land. They're not making any more of it." That's particularly true about desirable properties in places such as the Poconos.
It's Where Memories Are Made: It's amazing how a vacation home can create strong family memories—and draw family members back for a visit. There's something special about seeing your kids bring their kids back to the place where they have such fond memories.
Your Home Needs Could Evolve: There may come a time when you want to downsize or even retire. If you build the right vacation home (with some forethought about the future), that home could become the place you live in during your retirement. If it's in the Poconos, you'll know that it's a place you enjoy being. It will be less hectic—but still within easy reach of family and friends.
The Poconos Are an All-Season Region: There is something to do in the Poconos year-round. Whether you're looking for winter activities such as skiing, sledding, or ice-skating, you'll find plenty of opportunities. And in the spring, summer, or fall, there are so many outdoor options and interesting small towns to explore. If you'd like some descriptions of great local activities, click here to download our free Guide to Poconos Area Activities. It's packed with information about fun family activities, great dining, museums, history, the arts, local parks, and more.
Having a great vacation home in the Poconos provides you with a "home base" from which to explore all that this wonderful region has to offer. And if it turns into the place you choose to retire . . . well that's just icing on the cake. Click here to check out a variety of floor plans to see what may fit your specific wants and needs.