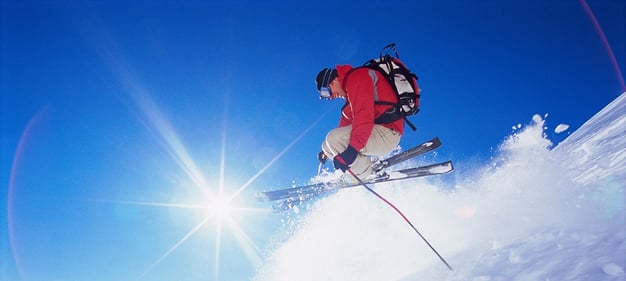 When you start to feel that nip in the air, you may be one of those people who gets a bit of an adrenaline rush at the thought of pointing the tips of your skis downhill and experiencing the thrill that snow skiing in the Poconos brings. The good news is that there are plenty of great opportunities to flex your ski muscles in the Poconos. Here's a post that highlights some of the best ski resorts in the area.
More Than Just a Downhill Run
Many of the resorts offer additional outdoor activities beyond great downhill skiing. If you want to take a break from skiing, you can enjoy a scenic sleigh ride, cross-country skiing, or even snowshoeing.
Snow Conditions
Naturally, you'll want to check out the conditions before you head out to the slopes. Here's a link that lets your check multiple ski destinations at one time. You can also click here to check conditions at specific resorts—and check out additional events and amenities that the different resorts have to offer.
Getting Your Gear Ready
Sometimes winter can sneak up on you. You may be ready to head to the slopes, but is your ski gear in good shape? Remember that binding that was giving you problems at the end of ski season last year? Forgot to get it fixed, didn't you? And what about those boots that were pinching your toes last year that you swore you'd never wear again? Are your goggles in good shape or did they get scratched when you stored them away last spring? The good news is that there is an abundance of qualified places in the Poconos where you can find new gear or get your current equipment serviced. Here's just a partial list of some of the best places to check out.
Restaurants
Spending the day on the slopes can really fuel your hunger. And while you can usually find some sustenance to keep you on your feet while you're skiing (all the resorts we've reviewed have snack and dining opportunities on site), when you're done for the day you may want to find something a little more intimate or fun. You don't have to settle for the "same old same old" when it comes to satisfying your apré-ski appetite. The Poconos offer a great array of unique restaurants and fine dining. Click here for a look at some of the fantastic eateries around the area.
Charming Towns and Villages
This part of Pennsylvania is known for quaint, charming, and interesting historical towns and village. What's fun is that these places are as full of charm and fun as they are full of history. It's a great way to gear up or wind down from a day on the slopes. There are a number of fascinating towns and villages within easy access of virtually all of the Poconos ski areas. You can explore Stroudsburg, East Stroudsburg, Jim Thorpe, Honesdale, and Milford—just to name a few. In addition to an interesting glimpse at some of the important history of Pennsylvania, you can also enjoy great dining and shopping at unique stores you certainly won't find at any suburban mall. Click here for a look at some of the fabulous Poconos towns you can check out before or after skiing.
Additional Activities for Non-Skiers
Sometimes not everyone in your group (whether it's family members or friends) is as excited about skiing as you are. That's not a problem when visiting the Poconos. There are lots of non-skiing activities to capture the attention (and provide lots of fun) for the less-avid skiers among you. Here's a look at three Poconos activities even less than gung-ho skiers will enjoy. And this is just the tip of the iceberg when it comes to winter fun in the Poconos.
Just a reminder: You may come for the great skiing and winter activities, but once you get a taste of what's here, you'll want to discover what makes the Poconos a place for all seasons!