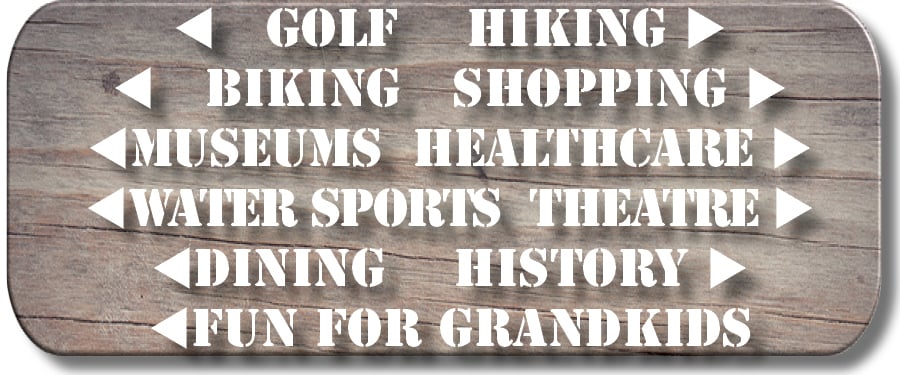 American baseball icon (and unintentional philosopher) Yogi Berra is credited with coining the phrase: "The future ain't what it used to be!" That's certainly true when it comes to retirement. Retirement used to be considered a time to slow down, kick back, and relax. These days, when people look forward to their future retirement, they still want to relax, but the "slow down" part has changed. If you're thinking about retiring in the Poconos, here's a look at 7 things to live near when you retire.
1. Outdoor Activity
The Poconos region is known for its natural beauty. You can sit back and enjoy it or you can get out in the midst of it with a host of outdoor activities. If you like getting outside, you may want to be near some of the area's great hiking opportunities. What's nice about the Poconos is that you're never far from great hiking. For starters, here's a look at some of the beautiful waterfall walks in the Poconos.
For some people, golf is the ultimate outdoor activity. If that's how you enjoy the outdoors, you'll probably want to be near a great golf course. The good news is that there are plenty of great courses in the Poconos. Click here for a look at 8 amazing Poconos golf courses.
2. Great Dining
Just because you're planning to escape the hustle and bustle of urban or suburban life doesn't mean you have to do without great dining. The options available to you in the Poconos range from simple, hearty fare to exquisite meals. You don't have to eat out all of the time, but with the variety of choices, you won't run out of places to explore. Here's a short list of some of the best restaurants in the Poconos.
3. Shopping
Whether you need essentials or truly unique gifts, there are plenty of places to satisfy your shopping needs in the area. You'll find everything from outlet stores and malls to shopping malls and even eclectic small shops in some of the regions great small towns.
4. Theatre/Culture
You may not want to spend all of your time exploring the great outdoors in the area. In the Poconos, you can catch a show or a first-rate musical act at one of the numerous theatres in the region. And if you're looking for something even more upscale, you're within easy driving distance of Philadelphia or New York City.
5. Local History
If history is something that intrigues you, you'll want to be close to opportunities to explore the past. The Poconos region represents a unique period of American history as the area evolved from the frontier to a center of railroading and mining. You can still capture the flavor and feel of those historic times (as well as enjoying great shopping and dining) when you visit the numerous small towns and villages in the area.
6. Healthcare
Staying healthy is an important part of enjoying your retirement years. So if you're considering a move to the Poconos, you can have confidence that you'll be near great healthcare. Click here for a look at area hospitals and medical centers in the region. In addition to the hospitals you'll find on that page, we'd also like to let you know that the Poconos Medical Center is now part of Lehigh Valley Health Network! This is another win for the region and further solidifies the Poconos reputation for improving the health and lifestyles of its residents.
7. Fun for Grandkids
Grandkids can make retirement so much more enjoyable (and, of course, you can send the kids back home to their parents after you're done spoiling them). But kids thrive on fun activities. That means you'll want to be near things that are fun for kids. There are a bunch of outdoor activities listed above, but sometimes the grandkids are going to want to do things designed specifically for kids. The Poconos provides easy access to plenty of fun things for kids to do. Click here for a sample of the fun!
The great thing about retiring in the Poconos is that you'll be far away from all the things you don't want (noise, traffic, crowds) and you can still be near the things that make retirement enjoyable!