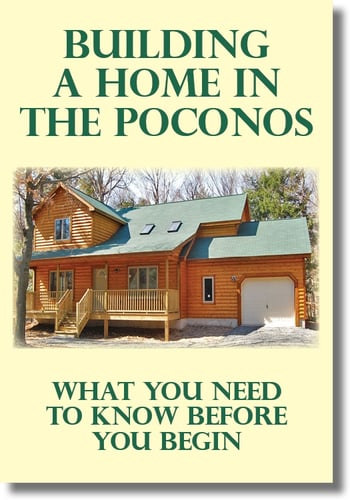 Building a home in the Poconos isn't just a transaction. In fact, it's not even an event. It's a process. And the more you understand the different elements of this process, the more enjoyable it will be. Having a sense of how you'll move through the process makes a lot of the decisions you'll make less stressful—and it ensures that you'll end up with the home you really want.
While your builder will do the actual physical work of building the house, you've got work to do as well. And most of your work will take place before the foundation for your new Poconos home is even poured. Let's take a look at what you need to know before you begin the building process.
Build, Rent, or Remodel?
Perhaps the first thing you really need to nail down is if it makes sense for you to build a new home, buy an existing home, or remodel your current home. There are advantages—and limitations—to each of those options. You need to decide which of these choices will best suit your living needs, your financial situation, and your current (and future) lifestyle. Here's a helpful article that provides a comparison of building, renting, or remodeling a home in the Poconos. It may sound odd coming from a builder, but we believe that building is not the right choice for everyone. In fact, we almost always encourage first-time home buyers to buy an existing house and use their own efforts to remodel and save some money.
Defining Your Home Style
Once you decide that building a new home is the right direction it's important to think through what kind of home really fits your personality and lifestyle. Naturally, you'll want to take a look at the exterior style of the home. If you really enjoy the rustic character of parts of the Poconos, you might opt for a log home. Another style you'll see a lot of in the region is some variation on an "A-Frame" structure. But just because you're living in the Poconos doesn't mean you have to go for a rustic look. You may prefer the look of a Cape Cod style home or something else. You want your home to reflect your personality.
That's true for the interior as well. And when you're thinking about the inside of your new home, you need to consider more than just the style—the way things look. Sure, you'll want to pay attention to classic, traditional, transitional, or even modern styles. But perhaps more important is to make sure that the layout of the home fits your personality and the way you plan to use your home. Here's a post that helps you define what your home personality is.
Determining Your Budgeting
Sometimes talking about money is the last thing prospective homeowners want to do—but it's hugely important. It's absolutely essential to have a realistic budget for the home you want to build. I'm not talking about having a plan that covers every single penny. What I'm proposing is that you determine what's realistic for your specific financial situation. You can find homes and plans and sites all over the Poconos. Some of them, however, simply aren't right for your situation. Setting a preliminary budget helps you narrow your choices and think about what's really important to you. And by the way, setting your budget too low can be just as big a mistake as trying to build a home that's too much for your budget. If your budget too low, you'll very likely end up with a home that doesn't satisfy you. Of course, if you budget too high, you can end up with a lot of financial stress. Here's a helpful post that offers help for setting a budget that's right for you.
Getting Your Financing in Order
It's one thing to have a budget for your home in mind. It's an entirely different matter to have your financing lined up and ready to go. You don't want to go to all the effort (and raise your expectations) only to find out you can't move forward because your financing isn't in order. It's often a good idea to qualify for your loan before you get too far into the process. In addition to making sure you won't cause delays, qualifying for your loan ahead of time can actually make the budgeting process easier. There's no point in budgeting (and planning) for a $350,000 home if you know your loan limit is more in the $275,000 range.
Selecting Your Floor Plan
Determining the style of home you want is a great step, but the floor plan you choose is what helps your builder actually make that happen. The good news is that you have a lot of different plans from which to choose that differ in layout, space, configuration, and price. Click here for a look at the floor plans we offer. Keep in mind, however, that you're not locked into the specifics of these plans. You have the option of changing elements and features such as the size of the rooms, the height of the ceilings (on the main level), the locations or doors and windows—or even adding rooms or additional space.
Choosing Your Builder
Deciding who is going to build your house is one of the more critical decisions you'll make in the process. When you decide to build a new home in the Poconos, you'll want to make sure you're dealing with a reputable, competent builder that you trust. To be honest, most home builders in the area can show you great images of homes they've built. That's a good start, but it's not the whole story. You'll want to check references and actually talk to previous clients to find out what the home building process was like for them. And you'll want to interview home builders themselves to see if it feels like a good fit for you. So what should you talk about when interviewing potential home builders? Here's a look at some key questions you'll want to ask any prospective home builder to make sure you're both on the same page. In addition, it's impossible to overstate the importance of dealing with an experienced builder. You'll want to find a build that won't be flustered by changes or small problems. And you want someone who can advise you when you make choices. Here's an article that talks about how to best take advantage of your builder's expertise and experience.
Fantastic Finishes
The finishes you choose for your new home are one more way to put your personal stamp on your house. You'll get to decide on everything from flooring to trim, to appliances. One of the biggest choices you'll make (because it's in a room that your whole family will use and your guests will see) is what kind of countertops to put into your kitchen. There is no "one-size-or-style-fits-all" choice. You'll want to consider both the look and the durability of what you choose for this critical feature of your kitchen. Here's a look at some of the things to consider when making that choice.
There are a lot of details that go into creating the Poconos home of your dreams. Understanding the process—and preparing yourself ahead of time will make building your home a much more pleasant and fulfilling experience.