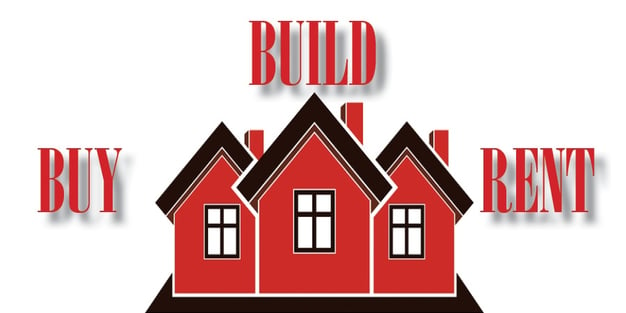 If you ask most homebuilders whether it makes more sense to rent a home, buy an existing home, or build a new home, you probably have a pretty good idea what the answer is. As a company that's been building homes in the Poconos area since 1978, we have to say that any of those three options can be the right way to go—depending on your specific situation. Let's look at some scenarios where building, buying, or renting a home in the Poconos may be the right choice.
The Case for Renting
If you only come to the Poconos periodically, owning a home here may not be the kind of investment you want to make. That's particularly true if you don't want to rent out your property when you're not using it. Another reason renting might make sense is if there is a fair amount of uncertainty in your future because of your job or your family. For individuals in those situations, it probably makes more sense to rent only for the times you want to visit and enjoy the many activities the Poconos have to offer while you're here.
When Buying an Existing Home Makes Sense
What if you come to the Poconos frequently and stay for longer periods of time? What if you love the area for skiing in the winter—but get tired of the hassle of having to rent a place? And what if you want to get away on the spur of the moment? After all, the Poconos are only a couple of hours from major metro areas such as New York and Philadelphia. What if you want to get out of the city in the "in-between" seasons and take the kids to a great water park for a long weekend? And what if you're looking for an investment that you can actually use while it increases in value. Those are all good reasons to buy instead of rent. And if you're in a hurry to make a move—and really don't want to go through the homebuilding process—purchasing an existing home may make a lot of sense for you? You can buy a house "as is" and renovate it later when it fits your schedule.
So When Does Building a New Home Make Sense?
If you're looking for a long-term housing situation, you still have the choice between buying an existing house and building a brand new one. Which is the smart move? Here's a post that looks at some questions to consider when you're trying to decide if it makes more sense to build a new home or remodel an existing one. Here are some factors that may indicate that building a brand new home makes sense for you.
You're very particular about the design and features you want. When you build a brand new custom home it's your chance to get everything just the way you want it. You're not settling for someone else's ideas or dreams. You can build in the comforts and amenities that matter to you.
You're thinking about the future. You may initially build a home as a vacation home or a weekend get-a-way. On the other hand, you may want to create a place that can serve as a comfortable and convenient place to retire away from the hustle and bustle of city or suburban life.
You can anticipate your future needs. A big advantage to building your own home is that you can create a home that will work for you now and into the future. That might include a home with a Master Suite on the main level so that if you don't want to hassle with stairs a few years from now, you don't have to. Or you can include a step-in shower that not only looks great but lessens tripping danger. Here's another article that talks about how to plan a home for both your current and future needs.
Which is the right choice for you? That depends on your specific situation. What's right for someone else may not be right for you, but considering the above information can get you started on finding the right solution for your family.