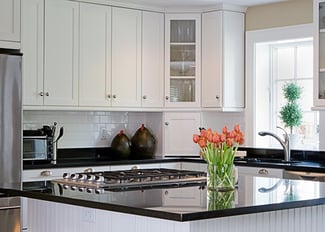 Is God in the details or is the devil in the details? Chances are you've heard it expressed both ways. Since we're builders and not theologians, we'll just say that when you're building a custom home, the details really do matter. And one of the major details in building a custom home has to do with choosing the right materials for your kitchen counter.
The kitchen, after all, is often the center or heart of your new home. It may be the most used room in your home, so you want it to look great—but you also need it to be extremely functional and stand up to the use it gets. And sometimes what you think looks right isn't really the right choice for the way you live. It's counter-intuitive. And that's why choosing your counter material carefully is so important.
The fact that there are so many options today can actually make your decision harder. Frankly, there are a lot of materials that look great—so how do you choose the one that's right for your kitchen? Here are a few questions that can help you narrow down your selection and arrive at the right answer.
How will you use your kitchen?
Your kitchen may have multiple uses such as meal prep, eating space, entertaining area, family meeting space, or part-time craft room. There are some counter materials that are designed for hard use. If plan to do a lot of cutting and chopping when you cook, you'll want to select a material that stands up to that kind of wear and tear. If you're concerned about maintenance and cleaning, there are some surfaces that hold up better than others. On the other hand, If you use your kitchen more for casual entertaining, you may want to focus more on what the surface looks like. And that leads us to the next question.
What's your sense of style?
Do you have an overall sense of style, such as contemporary, modern, traditional, or country? The material you choose for your counters plays a huge role in how your kitchen looks. An extremely sleek or modern-looking counter material, for instance, can create some dissonance in a country-style kitchen. So if casual country is what you're after, dark granites or sleek quartz may be an awkward choice.
What's your budget?
No matter what you choose, your countertop material is a significant expense, but some materials simply cost more than others. That can be due to rarity, or the difficulty in working with the material. And if you have a larger kitchen, with a lot of counter space, that makes a bigger difference.
How about a quiz?
If you're wondering what material would be best for your kitchen counters, there's a great (and fun!) quiz on house.com entitled What Kitchen Countertop Is Right For You? All you have to do is answer a few simple questions about your preferences for your kitchen, and the folks at house will make an instant recommendation (don't worry, they won't contact you later trying to sell you something). It's not a foolproof system, but it can help you to look in the right direction.
The good news about countertop materials is that you have lots of choices. Answering some of these questions can help you make the selection that's right for your Poconos kitchen.