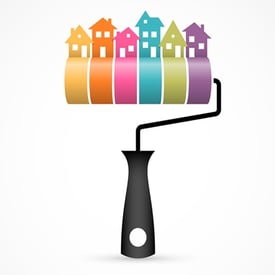 Building a custom home is a very personal experience. Your home, after all, is a reflection of your tastes, your sense of style, and your personality. So what is your "custom home personality"? What are the things that shape it?
As a builder, when I talk about your custom home personality, I'm talking about the way your home reflects how you like to live. One of the big advantages of building a custom home is that you can make choices about how it will be designed and built based on the way you live.
How you finish and decorate your home is more of an indication of your sense of style, whereas the design (the layout, the size, the flow of the house) has more to do with daily activities and lifestyle. It's really important to focus on those elements before getting too involved in the finishes such as countertops, cabinets, flooring, and colors. Here are a few examples of what I mean.
For instance, if entertaining is important to you, you'll want to bring people into your home. If you entertain larger groups of people, you'll most likely feel more comfortable in a home that has larger common areas such as the kitchen and family room. If you like to do more formal sit-down dinners, you may want a floor plan like the Arden that offers a separate dining room.
On the other hand, if your home is more of a private retreat, and you entertain smaller groups, you might prefer something along the lines of our Lakewood plan with a smaller kitchen and a combined Living Room/ Dining Room area.
What if you're considering building a home in the Poconos as a place to retire? Going up and down stairs may not be a big issue for you right now, but what about five or ten years from now? You may want to consider a floor plan that allows for single-level living, such as the McCormick. In addition to a spacious Master Suite (with walk-in closet), this home also offers two additional bedrooms that share a Full Bath. If you still have kids at home, there's room for them—or you'll have guest rooms for friends who will want to escape to the Poconos for a visit!
Another option to consider is the Oak Grove floor plan. This home also features a Master Suite (with large bath) on the main level along with two additional bedrooms and a full bath. The common rooms offer a kitchen/dining room/Great Room combination that looks out on a beautiful deck at the back of the home. And there's a large Bonus Room above the 2-car garage that you can use for an entertainment room, or even a home office that's separated from the rest of the home.
Maybe you have adult children with familiy of their own. That's where a home that offers lots of open space on the main level—and plenty of room on the second level—such as our Summit model can make a lot of sense. It's built to let lots of natrual light in. The large deck is great for accommodating more people (actually there are decks on both sides of the home). You'll have all the privacy you want downstairs in the Master Suite, while your family (or other guests) will have more than enough room to sleep in the two bedrooms upstairs and to relax in the upstairs loft.
Regardless of which plan you select, you can make changes to the room sizes, the window placement, the ceiling height, and more. You even have the option to add additional space if that's what you want. That's what custom building is all about!
And naturally, your lifestyle will influence the location that you choose. We have a number of choice lots in a variety of locations throughout the Poconos from which you can choose. And of course, we can build on a lot you own—or help you find a lot in the area.
So before you pick out kitchen cabinets and flooring—or choose the color scheme for the interior of your home—spend a bit of time considering what your Poconos home personality is. Build a home that fits your lifestyle, and then finish it off in a way that reflects your unique sense of style.
Adapted from a February 8, 2016 post.