Mention the "perfect" get-away home and some people's thoughts immediately turn toward oceanfront property or a large, luxury home along a gorgeous golf course. Homes like that may be beautiful, but they tend to be expensive—and out of reach. But that doesn't mean you can't find the perfect get-away home. It's really a matter of finding a place that has everything you want—within your budget. Here's a post that highlights the importance of having a realistic budget—and how to set your budget. Let's look at how to find an affordable home in the Poconos.
Why Consider the Poconos?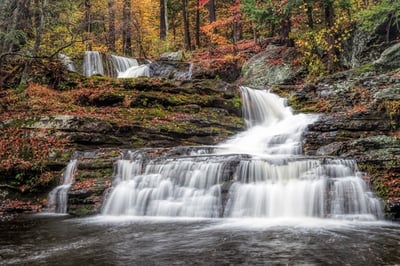 The Pocono Mountains have been drawing people to visit and to live for many years. While it's not far from major metropolitan areas such as New York and Philadelphia, it feels like it is worlds away. The pace of life is more relaxed. The tranquility allows you to enjoy the natural beauty. And because property pricing and taxes are lower here, you can get more house for your money. If you need a reminder of just how gorgeous the Poconos can be, click here for 8 Beautiful Photos of the Poconos!
What's "Affordable"?
First of all, let's consider what makes a home "affordable." An affordable home isn't the same thing as a cheap home. Your goal in building a home (whether it's for your retirement, for vacations, or as your primary residence) isn't to see how cheaply you can build your home. What you really want to get the most value for the money you spend—and not put yourself in a financial situation that causes stress. Here's an article that talks in more detail about balancing cost and value when building.
Benefits of Building a New Home
Obviously, there are quite a number of existing homes in the Poconos. There are most likely a number of them that fall within your budget range. So why build a new home? Isn't that more expensive? Not necessarily. Here are a few things to consider.
Maintenance: When you build a new home your ongoing maintenance costs are often considerably lower. Everything is new. You won't be spending money repairing the roof or replacing windows. You won't find yourself having to install new appliances six months down the road.
Efficiency: New homes tend to be more energy efficient. Your utility payments will most likely be lower in a new build than they would be in an existing structure. And that's an ongoing cost. (Here's a look at some energy efficiency options for your new home)
Insurance: Often prospective homebuyers are concerned that the insurance costs for a new home will be higher than for an older home. But insurance rates are based on risk. There is more that can go wrong with an older home than with a new home. You may find that your home insurance rates are actually lower.
You Get What You Really Want: When you buy an existing home, you have to settle for someone else's idea of the ideal design, layout, color schemes, and more. When you build your own home, you are the one who makes those decisions based on what meets your specific needs and sense of style.
What Does an Affordable Home in the Poconos Look Like?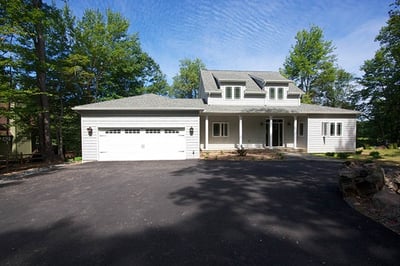 It's one thing to talk about affordability in theory, but what does that actually look like when you're considering a home in the Poconos? Click here for photos of homes we've recently built in the Poconos to get a sense for what affordable quality looks like. Or, if you prefer, you can take a look at a wide range of floor plans to see which one best fits your specific lifestyle and budget.
When it comes to building a new home in the Poconos—dreams are still affordable!