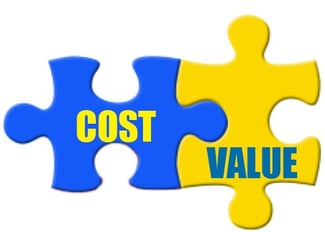 When you're planning to build a custom home in the Poconos, you have to be aware of how much you're spending. In the 36 years we've been building custom homes in the area, we've never had a client tell us "money is no object"—regardless of the size of the project.
Nobody wants to pay more for their home than they should. What you spend on your new home, however, is only part of the equation. When you're setting your budget and choosing your plan (and your builder) you really aren't choosing between cost or value. What's really important is getting the most value for your money. Cost and value are really parts of the same puzzle.
Let's be honest: Some things simply cost more than others. Granite countertops cost more than Formica. The material is more expensive, it's much more time-consuming to cut and it's more difficult to install. Nine-foot ceilings cost more than eight-foot ceilings. They require more materials and labor. A larger home costs more than a smaller home for the same reason.
The big question (aside from whether it's in your budget) is whether those extra expenses yield an adequate amount of value. Do they make your home more comfortable, secure or enjoyable?
Building a large custom kitchen with a six-burner industrial-sized stove and a subzero freezer will definitely cost you more money. But if you don't really like to cook and don't entertain guests a lot, it only adds cost—not value. Here's a helpful post that goes into more depth about that.
On the other hand, choosing a home plan that's too small for the way you live may save you some cash up front, but it won't deliver the value you want in a home because you won't be able to entertain or move about the house how you like. Similarly, installing low-quality carpet may save a few bucks initially, but it won't look or feel the way you want it to and you'll have to replace it much earlier. That's not providing value.
You certainly need to pay attention to costs when planning your new home. But when you're looking at floor plans, be realistic about how you'll actually use the space, and remember that it's more costly to add space after the fact. Beyond that, make sure that you pay attention to the features in your new home that really matter to you and will enhance your enjoyment of your new house.
And when you select your builder, do look at the price—but make sure the builder you choose can deliver the results you want and expect.