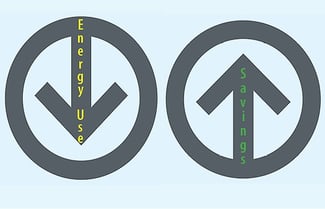 If you're considering remodeling your Poconos home you'll probably want to think about what you can do to make your home more energy-efficient. After all, energy saved is money in your pocket. And choosing remodeling strategies that help your home become more energy efficient helps preserve the beautiful environment around you—which is probably one of the things that attracted you to the Poconos in the first place.
So where should you begin? A fairly obvious place to start is with the places in your home where you use the most energy. Two that immediately come to mind are your kitchen and your bathroom.
Energystar.gov reports that the Lawrence Berkeley National Laboratory discovered that U.S. homeowners spend roughly $2,000 every year on their energy bills. One of the primary energy consumers in the home is the kitchen. That's because the kitchen uses a lot of devices that use a lot of energy. Two of the big users are the refrigerator and the dishwasher. Here's a glimpse at how you can easily save.
An ENERGY STAR-certified refrigerator is approximately 9% more energy efficient than the federal standard and uses about half as much energy as a 15-year old refrigerator.

An ENERGY STAR certified dishwasher is, on average, 12% more energy efficient and 30% more water efficient than standard, non-ENERGY STAR certified models
Those are significant savings—without taking any additional steps. But let's move on to your bathroom, where more than half of all the water you consume goes down the drain. Ask your builder about installing WaterSense labeled products in your home to save water and help protect the environment. A lot of your energy consumption in the bathroom, however, comes from something that's not even located there: Your hot water heater.
ENERGY STAR certified electric water heaters (also called heat pump water heaters) can save a household of four in the area of $330 per year on electric bills compared to a standard electric water heater. Over the lifetime of the heater, that's more than $3,400.
But water isn't the only thing you use in the bathroom. Consider your lighting. ENERGY STAR certified bulbs use 70-90% less energy than standard bulbs. On top of that, ENERGY STAR certified bathroom fixtures are independently verified to provide the bright, uniform, high-quality light that you want in your bathroom for applying makeup, shaving, and otherwise getting ready for your day.
Here's one more item to think about. Building codes require ventilation in today's bathrooms. ENERGY STAR certified bath fans provide up to 55% better efficiency and increased comfort with less noise. They also feature high-performance motors and improved blade design, providing better performance and longer life.
These are all small (and easy) steps you can take to improve the energy-efficiency of your Poconos home.
Of course a major source of energy use comes from heating and cooling your home. Lennox offers innovative and efficient cooling systems that can reduce your heating and cooling bills by up to half. (Note: We are not affiliated with Lennox; we're just using their products as one example of how to save energy) Here's a "Cooling Savings Calculator" that provides you with a sense for how much you can save per year with the right kind of cooling system.
It's fairly straightforward: The less energy you use, the more money you can save—and the less impact you'll have on the environment around you. We'd be happy to talk to you about how to make your Poconos home more energy-efficient.