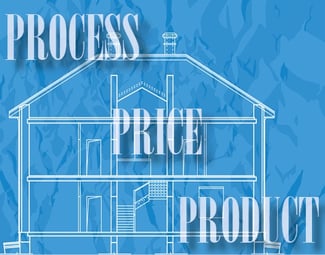 If you're new to the custom homebuilding process and are thinking about building a home in the Poconos region, you probably have some significant questions. Most first-time custom homeowners do.
We've been building custom homes in the area since 1978, and we've noticed that a lot of the big questions our clients have asked over the years tend to fall within three categories: process, price and product quality. Understanding the roles those things play in building your home is really important.
Process
When we talk about understanding the homebuilding process, that doesn't mean you'll suddenly be able to pick up the tools of the trade and build your own home. But the custom homebuilding process is different than the one you would go through when buying an existing home or a new "tract" home. You'll have a lot more choices and decisions to make when building a custom home. That's a good thing, because you're more likely to end up with what you really want (instead of someone else's idea of what you should have). But you will be a lot more involved in the process.
Price
Generally speaking, a custom home will cost more than a tract home. That doesn't mean you have to pay outrageous prices, but you can expect to pay a bit more—because you'll be getting more value. It's also important to understand how some decisions you make can cost you more—and where it makes sense to spend a little extra when building your home.
Product Quality
Aside from your lot, the major factors determining the quality of the home you live in are the quality of materials used in your home and the skill and quality of the craftsmanship. And while it's true that high cost doesn't always equate to high quality, you won't get either without some cost. With a custom home, you really have control over both. Of course, that's one reason it's so important to choose a quality custom homebuilder for your Poconos home.
You'll have lots of questions about building a custom home—some big and some small. But focus your attention on the process, the price and the quality of the product, and you'll have a much better chance of ending up with the home of your dreams.