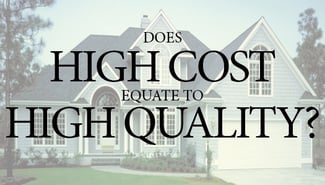 You've heard people say that you get what you pay for. To some extent, that's true. Quality doesn't come cheap. If you're buying a car, you won't get a Lexus for the price of a Chevy Spark. The same is true when you're building a new home. But does paying more guarantee higher quality?
When you're building a new Poconos home, the focus should really be on value. The things you spend your money on should make you feel more comfortable and secure in your new home. You can spend a lot of money on kitchen appliances, but if they don't make your life better, is that money well spent?
The same is true of the materials you choose to finish your home. Some kitchen counter materials cost considerably more than others. And in some cases, they'll last a lot longer. But unless you benefit directly, is it worth the extra money?
You'll face similar choices in other rooms of your home. It's easy to spend a lot of money on your master bathroom. For some homeowners, that's an extremely important room, and one they're willing to spend money on. For others, it doesn't make as much sense.
Sometimes, higher costs have no relationship to quality. Size costs money, too. The bigger the home, the more materials are required, and the more time it takes to build. Building bigger than you really need adds cost, but not quality. Of course the reverse is true as well. If you build too small, you may save some money initially—but you won't be happy with the result and will probably have to pay more later to end up with what you really want.
The key is making sure you have a good idea of what kind of home fits your family's needs and budget. That's one of the things you'll find in our Free New Home Buyer's Guide, available for downloading by clicking here. You'll find helpful information about budgeting for your home, creating an ideal floor plan for your family, and how to design both indoor and outdoor spaces.
Quality doesn't come cheap—but spending more doesn't always generate the value you really want. You don't want to overspend—or under spend—when building your new Poconos home. Arm yourself with the information you need to get what you really want.