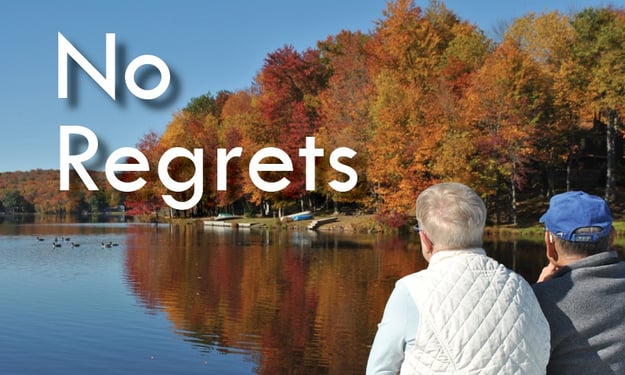 There are plenty of good reasons why building a home in the Poconos can be a great idea. Here's a look at 7 reasons the Poconos are a fantastic place for a first home, a vacation getaway, or a retirement destination. On top of that, building a home here can be a great investment. Still, building a home requires some forethought and planning in order to end up with a home you'll really love. Here's a quick look at some of the biggest regrets homeowners have after buying or building a new home. We're sharing them so that you can make sure you don't make the same mistakes!
Poor Kitchen Layout
There is no underestimating the importance of the kitchen in your Poconos home. These days the kitchen is so much more than just a place to prepare meals. We entertain in the kitchen; we often eat casual meals or snacks in the kitchen, and we have all kinds of casual conversations there. Even when we do prepare meals there, we want the room to be comfortable and convenient. That means having a combination of adequate space and well-designed space. A poorly designed kitchen can negatively impact your whole living situation. It's no wonder that kitchen remodels top the list of home renovation projects year after year.
That's why it's really worth it to carefully think through your kitchen design before you build. Here's a helpful article that looks at 6 things to consider when designing your Poconos kitchen. And for some more in-depth information, you might want to download our free Design the Perfect Kitchen eBook. One of the things this eBook does is help you to identify your preferred kitchen style. That's really one of the most important factors to ensure that you end up with a kitchen you'll love.
Not Enough Storage
Let's face it: Storage space isn't exactly sexy. It's not the first thing most homeowners think about when designing their home. But if there's not enough space for storage, you can quickly become frustrated. We've already talked about creating a great kitchen, but having adequate storage in your kitchen is one of the things that will make it look and function better. So keep that in mind as you're designing your layout and selecting cabinets.
The kitchen, however, isn't the only place you'll want to consider when it comes to storage space. Think about linen closets, clothes closets (especially in your Master Bedroom). Don't forget about storage in your bathrooms, either. Sometimes your builder may be able to "create" extra space for bathroom storage by building closets or shelving that is recessed between the studs. It gives you storage space without taking up valuable floor space. You may want to consider that same approach in your laundry room or in your garage. One key to having an uncluttered home is to make sure you have plenty of places where you can easily and effectively store household items.
Inadequate Entertaining Space
It can be hard to enjoy entertaining if you simply don't have adequate space for guests. We're not necessarily talking about huge events with tons of people. But a lot of entertaining today is less formal. People want to be able to move around a bit. That's an advantage that a lot of open space floor plans offer. That's one reason most of our floor plans use open design—because it's so flexible. Guests can easily move from the kitchen area to the dining area and into the Great Room—without feeling like they are leaving the gathering.
That's not to say that you can't have a space set aside exclusively for dining. That's why some plans—such as our Arden floor plan—have a "formal" dining room for those times when you want to enjoy a special meal and some quiet conversation away from the kitchen. It really comes down to the kind of entertaining that you enjoy doing. Consider how you like to entertain before choosing your floor plan.
Wrong Location or Lot Size
For years we've all heard the mantra of real estate agents: "Location, location, location." They're right! Where you choose to live really does matter. You'll want to find a place that offers the amenities you want. If views are important to you, you'll want to think about how your home will be situated. You'll even want to pay attention to light and to the direction that the different rooms in your home face.
In addition to those things, you'll also want to make sure you select a lot that's suitable for building. Great views may lose their appeal if the lot your home is on requires extensive (and expensive) grading or other preparation. And of course, you'll want to choose a lot that allows you enough space to build the home you want and will also afford you the kind of privacy you want. Here's a look at some of the communities where we currently build. We can build on your lot or one of our own—and our on-site realtor would be happy to show you various locations for your future home!
Compromising
So many times homeowners regret compromising on what they really want. We understand the importance of establishing a realistic budget. If you significantly outspend your budget, you won't be happy. But that doesn't mean you should settle for less than you really want (and can realistically afford).
That's why, if there is an aspect of a floor plan that doesn't fit your needs, we can adjust our floor plans to work for you! Here are some of the things we can change: That includes changing features such as room sizes, window placement, garage door location, ceiling heights, or even adding additional space. While it's true that some of those changes can impact the cost of building your home, it's generally much easier, faster, and less expensive to make those changes up front than it is to come in later and make them.
Building a new Poconos home should be a fun and exciting adventure. And when you're done, you should be delighted with your new home—not regretting features that you wish you'd built in. That's why we encourage prospective homeowners to take their time up front to think through what they really want and then choose a plan that meets their needs—and modify it if necessary. Building a new Poconos home should bring you joy—not regrets!