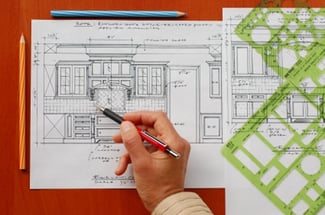 If you're planning a new kitchen for your Poconos home, you may go onto popular homebuilding or home improvement sites such as Houzz.com or BHG.com for ideas. Chances are, you'll see some stunningly beautiful kitchens. You may even pick up some great decorating ideas for your home. But there's more that goes into making a great kitchen than what meets the eye.
Great kitchens do more than just look good; they also function comfortably and conveniently. That's why we recommend that homeowners (whether they're building a new home or remodeling the kitchen in their existing home) consider the following things as they draw up their plans.
Space: One of the most common reasons homeowners give for remodeling a kitchen is to gain more space. As the role of kitchens has evolved, they've become not just workspaces, but also social spaces. As you make your plans, think about how you plan to use your kitchen. Will you eat casual meals there? Will friends and family gather there? Will you do a lot of involved food preparation? Then think about the amount of space you'll need for those different functions. Your kitchen doesn't have to be cavernous, but you probably won't be happy with a cramped kitchen, either.
Layout: It's not just how much space you have in your kitchen that makes a difference; it's how that space is configured. If your kitchen is going to be "all about the food," you'll want to arrange your space accordingly. You'll want to make sure you can easily move from one facet of food prep to another. You'll want countertops that are arranged to facilitate the different tasks. Click here for some ideas about choosing the right countertop material for your kitchen. On the other hand, if your kitchen is more of a social setting, you may want to explore options for additional seating—and also make sure you have plenty of room to maneuver around guests while cooking and entertaining.
Appliances: There has been (and will continue to be) a lot of discussion about the color of appliances. Some designers have been predicting the death of stainless steel for years, but it hasn't happened yet. A more important decision, however, is whether your appliances fit your lifestyle. Sure, sub-zero freezers are hip and cool (no pun intended), but do you really need one? Do you really want appliances to dominate your kitchen space? Similarly, a six-burner gas stove may be what they use on some cooking shows, but will you really use it? If so, that's great. If you'd rather spend the money (and devote the space) to something else, do that. While you don't want to "go cheap" on appliances (and end up replacing them), you don't necessarily have to purchase the most expensive appliances either—unless you're really going to use them.
Lighting: This is perhaps one of the most overlooked features in kitchens—and yet it's so critical to comfort, convenience, and ambiance. You may want to consider ways to bring more natural light into your kitchen with oversized windows, glass block, or even skylights. And as you plan your lights, make sure you have adequate task lighting for when you're cooking. But also make sure you have ambient lighting (on separate switches) to set the mood when the food preparation is done.
Open Concept: These days it's almost assumed that homeowners want an open concept for their kitchen. It does allow for more social interaction between people in the kitchen and in other common rooms. And it has the advantage of making a space feel larger. Some individuals, however, aren't fans of the concept. They find the noise, clutter, and even smells of the kitchen distracting or uncomfortable. Once again, think about how you use your kitchen and how you feel about having the area open to everyone before you move in this direction.
Flooring: What kind of flooring is best for your kitchen? The trend continues to be toward natural wood flooring. But don't be too quick to turn your nose up at man-made "wood" flooring. There are an increasing number of products that look great—plus, they don't require maintenance and stand up to wear and tear (including dog toenails!) better than some natural woods. Click here for a closer look at the comparison between natural and engineered wood flooring. Stone floors are dramatic (and beautiful), be can be pretty unforgiving when you drop a plate on the floor.
Probably the number one thing to keep in mind when designing your Poconos kitchen is that your kitchen should fit your lifestyle, rather than trying to adapt your lifestyle to the design of your kitchen.