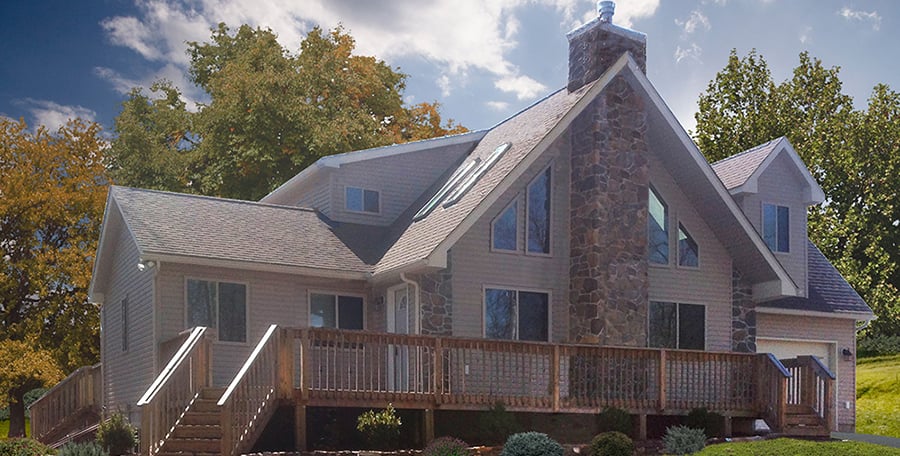 The Poconos region has become an increasingly popular retirement destination. Because so many retirees are much more active in retirement than their predecessors, the abundance of activities in the Poconos makes it an ideal retirement location. Many people, however, purchase their retirement home before they actually retire. Often they buy it as a vacation home which then becomes their retirement property. Frequently, they'll purchase a two-story home because it affords more space for kids and guests. So how does that work when it becomes their retirement house? Here are 5 tips for retiring in a two-story home.
1. Pay Close Attention to the Main Level
If you're purchasing a two-story home in which you plan to retire, make sure that you have the ability/flexibility to have everything you need on one level. Even if you initially make your bedroom on the second level, you'll want to have the option of having everything on one level in the future.
2. Assess Your Activities
Placement of your bedroom is important, but you do a lot more in your home than sleep. Think about the various activities you engage in on a daily or regular basis. Where do you do those things? Some things are pretty obvious: Cooking, eating, entertaining. There's a good chance the rooms for those activities (kitchen, dining area, family room) are already on the main level. But what about other activities? Where is your laundry room located? What if you have a craft room? Is it upstairs or perhaps in the basement? Does your current floor plan have the flexibility to move those activities to the main level?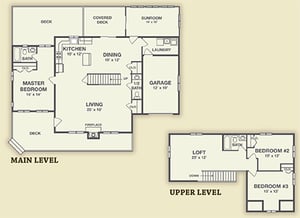 Here's an example of a floor plan that provides the flexibility we're talking about. Our Summit floor plan offers spacious main level living with a Master bedroom and bath (and an additional half-bath) on the main level. The open floor plan allows for easy and unobstructed movement between the kitchen, the dining area, and the family room. The laundry room is also on the main level. You'll also find same-level decks (front and back) that allow you to enjoy the outdoors without having to negotiate steps.
The second level features two bedrooms plus a bathroom, and a loft area. It's great for kids, grandkids, or overnight guests and functions almost like a private suite. Click here for a larger view of the Summit floor plan.
3. Think About Your Main Entrance
Generally, when builders, designers, or homeowners talk about "the main entrance" they're referring to the front door. In this case, we're talking about the entrance you actually use the most. In all likelihood, that's going to be the garage entrance into your home. To take stairs out of the equation as much as possible, you'll want to ensure that your garage opens onto the main level with as few steps as possible.
4. Consider Heating and Cooling
As we age, our "comfort zone" (our tolerance for heat and cold) tends to shrink. That's why it's important that your home is well-insulated and energy efficient. While you may want to turn air registers off on upper levels to conserve energy, you'll also want to ensure that the rooms you use every day are comfortable. It's worth having a HERS Index (Home Energy Rating System) done to make sure your home is up to standards. The HERS Index is the industry standard by which a home's energy efficiency is measured. It's also the nationally recognized system for inspecting and calculating a home's energy performance. Click here for more information about the HERS Index.
5. Evaluate Your Options
How do you find a home that provides these important features? One option is to build a new home that offers you the floor plan that meets your needs. You can check out our floor plans here where you'll have options for several two-story homes (such as the Summit above) that lend themselves to single-level living. Or you can choose a single-level floor plan. If you already have a 2-story Poconos home that you love that doesn't provide the flexibility you need, you may want to consider remodeling so that your home better fits your retirement lifestyle. Here's a helpful post that examines the pros and cons of building or remodeling.
The key to making a successful transition into retirement living in the Poconos is to start now, gather information, and plan ahead so that you're ready when the time comes.