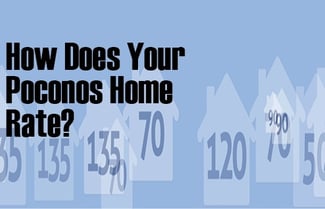 We keep track of a lot of numbers these days. We're constantly reminded to check our credit scores. There are fitness devices and applications that help us keep track of how many steps we've taken each day and what our blood pressure is. We get reminders about how much data our smart phones have used. But as homeowners, there are some numbers that we should be keeping track of that impact our comfort—and the amount of energy our houses are using.
It's called the HERS Index (Home Energy Rating System) and it's the industry standard by which a home's energy efficiency is measured. It's also the nationally recognized system for inspecting and calculating a home's energy performance. Why does that matter?
A HERS Index Score can tell you a lot about a home you may be planning to buy. Because heating, cooling and water heating make up the largest cost of homeownership outside of your mortgage loan, it's important to be on top of that information. It's one thing to be able to buy a house, but you'll want to know how affordable it is to live in the home you're considering purchasing.
Here's how it works. A certified RESNET Home Energy Rater assesses the energy efficiency of a home, and assigns it a relative performance score (the HERS Index Score). The lower the number is, the more energy efficient the home. The U.S. Department of Energy has determined that a typical resale home scores 130 on the HERS Index while a home built to the 2004 International Energy Conservation Code is awarded a rating of 100 (obviously more energy-efficient). If the home you're looking at has a HERS score of 70 that means it is 30 percent more energy efficient than the reference home. If the house has a score of 130 that means it is 30 percent less energy efficient (and will cost you more per month to live in).
So what does that mean for you? If you currently live in a Poconos home, it may make sense to have your house evaluated to see how energy-efficient your home is. It can give you specific areas to address to improve your home's energy efficiency. In addition to saving money on utilities, it can make your home more comfortable.
If you're thinking about building a new home, you'll want to talk to your builder about features and materials to use in building that will provide energy-efficiency from the very beginning. It can also help you to budget for future utilities costs. Liberty Homes is a certified RESNET ENERGYSMART Builder. Click here for more resources for building energy efficient home in the Poconos.