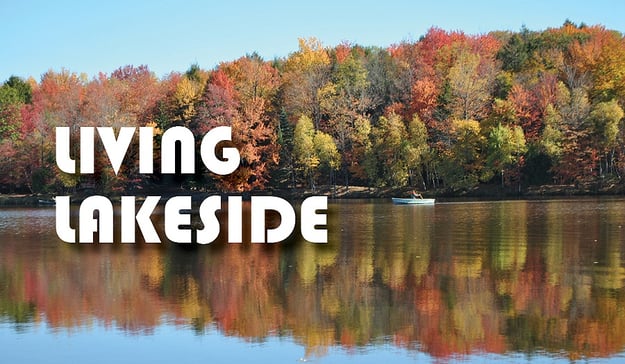 For many people, the Poconos region is synonymous with woods and water. That's not surprising when you consider that the area is home to 19 beautiful waterfalls, almost 200 miles of rivers, and 150 lakes. It's a great area to explore and here's a post that takes a look at some of the great waterfall hikes in the area. But what about actually living near the water? What are the pros and cons of lakefront property in the Poconos?
Before you decide to build a home on one of the area's many lakes, it's smart to take a look at both sides of living lakeside in the Poconos region.
Pros
The advantages to living on lakeside property are pretty obvious.
Views: The ability to enjoy spectacular views is probably the first benefit that comes to mind. In addition to the unsurpassed beauty, you also know that if you're on the lakefront, nobody is going to build between you and the lake. And even if you're surrounded by trees, you'll have lots of natural light coming into your home from the lake itself.
Lake Breezes: There is something special about the breezes that come off a lake. It's especially delightful in the spring and summer months when things have a tendency to get a little warm.
Boating: If you enjoy boating you've got easy access to your passion. There's no hauling around a boat or canoe to get to into the water. It's right in your yard. That means you can take your boat or canoe out anytime you want—even if you only want to use it for a few minutes.
Fishing: Whether you like to fish from the middle of the lake or from the shore, you're in luck. And if the fish don't happen to be biting (or if you get caught in a rainstorm) you're close to the house.
Resale: If you should ever decide to sell your Poconos home, lakefront property is always in demand. It's a huge selling point should you decide to move on.
Cons
Despite the advantages of living on a lake, there are some factors you will want to take into consideration before you build.
Initial Cost: Because of their popularity lakefront properties tend to cost a bit more up front. Obviously, that adds something to the cost of a home. The flip side (as mentioned above) is that you'll probably get that back should you ever decide to sell.
Maintenance: Those same breezes you enjoy can sometimes take a toll on the exterior of your home. Plus the moisture in the breezes can cause metal objects to corrode more quickly. You can guard against that, but you should stay on top of it. Additionally, that beautiful reflective light that plays off the water can also cause drapes to wear out more quickly, so you might want to consider different window coverings.
Bugs: People aren't the only creatures attracted to water. Mosquitos and other bugs are more prevalent where there is water. You'll want to make sure you have good screens for your home—and you may want to have a screened in porch instead of just an open deck. It's a good idea to talk to other residents to see how they deal with the issue.
Most of the "cons" associated with lakefront property can be overcome with some planning and attention. It's simply a good idea to consider the issues before you make your decision so that you go into the situation with your eyes open.
Lakefront living probably isn't for everyone, but the majority of homeowners on lakefront properties wouldn't trade it for anything. By the way, the image you see above is from Arrowhead Lake—one of the communities where we build. We can build you a home in Arrowhead Lake, Lake Naomi, or on a lot you already own. Or, our in-house realtor can work with you to find the perfect piece of land.