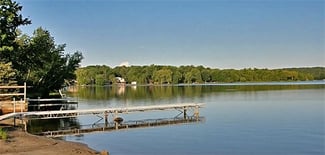 While the entire Poconos Mountain region is overflowing with natural beauty, there are special places within the area that seem to embody its character. The community of Arrowhead Lake, nestled within the beauty of the northeastern part of Pennsylvania, is one of those places.
If privacy and serenity are important to you and your family, this gated Poconos community may be just what you're looking for. With an abundance of recreational amenities and a welcoming nature, Arrowhead Lake is a great community for a vaction home—or a year-round residence.
Central to the Arrowhead Lake experience, of course, is Arrowhead Lake itself. Residents know that the community actually boasts two lakes. The main lake covers 250 acres and the smaller North Arrowhead Lake is 78 acres in size. The lakes are a particularly great place if you enjoy the unique thrill of sailing because gasoline powered boats are prohibited on both Arrowhead and North Arrowhead Lakes.
Swimming opportunities abound as well. You and your family can enjoy a dip in the natural waters of Arrowhead Lake and take advantage of the four beaches surrounding the lake. Or you can enjoy swimming in on the three swimming pools in the area. And for those who like to be a bit pampered, two of those pools are heated. If you have kids or grandkids, they can take advantage of the swimming lessons offered by the Arrowhead Lake Community Recreation Department. There are also water aerobics for the adults.
If you or other family members enjoy tennis, there are also numerous tennis courts available and tennis lessons are also offered. There are more summertime activities for children, including kids craft classes and family movie nights. Kids can also participate in contests for sand castle building and holiday house decorating. All of those things contribute to building a sense of community throughout the year.
For a lot of people, fishing is an integral part of any vacation (even if it's a weekend vacation). At Arrowhead Lake, you're in luck! The lake is stocked by the Pennsylvania Department of Fish and Game and is a wonderful catch-and-release fishing area. Anglers will find pickerel and bass for catch-and-release. If you like to keep your catch, lake trout are exempt from the catch-and-release rules. In fact, there are even trout-fishing contests that extend into the fall. For those brave (and warm-blooded) souls there is also a limited amount of ice fishing available in winter.
Speaking of winter, there is plenty to do in the area around Arrowhead Lake when the snow starts to fly. There are more than
185 ski trails in the region, providing plenty of skiing and snowboarding opportunities from which to choose. Each ski resort has its own character so you can choose among the following place to find the one that best fits your personality and style:
Alpine Mountain

Camelback Mountain
There's something for everyone regardless of your level of expertise. Approximately 35 percent of the trails are designated for Beginner/Novice skiiers; roughly 32 percent are designated as Intermediate level; and 33 percent are intended for Expert-level skiers.
Skiing isn't the only thing you can do. You can also enjoy snow tubing at most of the resorts. Or you can take the family on the toboggan run at Skytop Lodge for some fast-paced fun everyone will enjoy!
Not all winter activities in the area are cold-weather adventures. There are three great water park resorts in the Poconos where you and the family can splash around all day in summer-like temperatures! Take your pick between Great Wolf Lodge, Kalahari Resorts, and Camelback Lodge Aquatopia. Click here for more information on each of these great options!
In the warmer months, there are plenty of nearby golf options, and for NASCAR fans, the famed "Tricky Triangle" of the Pocono Raceway is close at hand.
Naturally, when choosing a vacation home, a place to retire, or a year-round residence, location is always important. Arrowhead Lake is just an hour and a half to two hours to Philadelphia, New York City, and New Jersey, making it easily accessible when you want or need to get there.
If you want to get an unvarnished opinion of what life is like in the Arrowhead Lake community, click here to check out the unsolicited comments from visitors and residents on Facebook.
Arrowhead Lake is just one of the select communities where Liberty Homes builds beautiful homes. Click here to take a look at some of the other outstanding Poconos communities where we can build the home of your dreams.
And because a picture is worth a thousand words, you may enjoy this look at the idyllic lifestyle that can be yours in Arrowhead Lake. Click here to enjoy a mini-getaway!