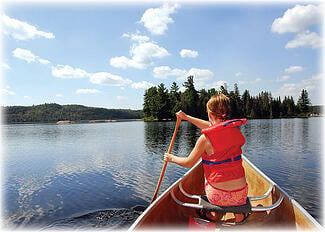 When you think about building a vacation home, you may think primarily of a place where you can simply get away—leaving stress and noise behind. But if you've ever wanted a little bit more than that—If you've ever longed to relive the joy of summer camp as a kid again—and share that with your kids—Lake Naomi may be just the place you're looking for.
The lake itself is at the heart of the Lake Naomi Club community—with 277 acres that offer boating, fishing, swimming and sailing. It's an ideal spot to bring back the joys of growing up—and to create new and lasting memories for your family.
Of course, there's more to the Club community than just the lake. Lake Naomi Club also features two outdoor pools (including the largest heated outdoor pool in Pennsylvania). You can enjoy the 9-hole executive golf course or play at the #1 rated tennis complex in the state.
The Clubhouse offers a restaurant and pub plus a dedicated recreational staff to coordinate activities for members of all ages. You can also enjoy the 48,000 square foot community center that is home to an indoor pool, indoor tennis, a fitness center and plenty of other activities for the whole family. It's no wonder that the Lake Naomi Club has consistently been rated one of the top 100 communities in the country.
Nestled at almost 2,000 feet above sea level on "The Great Plateau" at the top of the Pocono Mountains, Lake Naomi Club has been a haven for individuals who love the good life of sports and the out-of-doors for more than a century. That's a lot of great memories!
We've been building outstanding homes throughout the Poconos of Northeast Pennsylvania since 1978. We're pleased to say that we've helped lots of families build the kind of homes throughout the region that have housed memories that they will treasure forever—and pass on to future generations.
So if you're considering a vacation home where you can get away from it all—and build memories that will last—we invite you to take a look at the great community that's waiting for you at Lake Naomi. We have plenty of great custom home designs from which to choose—and we know how to build it to your exacting specification in this area that we call home.