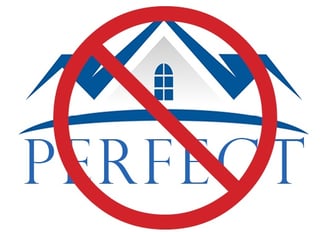 Anyone planning to build a new home in the Poconos probably has high expectations. They may be planning their dream home. Maybe you're one of those people. You want everything "perfect." We think that's a good thing!
At the same time, we've all heard horror stories about new homes that didn't meet owners' expectations. Far from being perfect, they left homeowners disappointed and frustrated. ABC News recently did an investigation into the problem that you can check out here.
As a local Poconos builder, perhaps my biggest disappointment came from reading the words of Jerry Howard, CEO of the National Association of Home Builders: "I think American consumers expect a perfect home," he said. "There's no such thing as a perfect home, and so I think that there are often disputes that arise out of that." At Liberty Homes, we're not buying that!
It is true that any home will have imperfections. But if you read through the ABC story, you'll find that homeowners aren't complaining about minor imperfections; they're concerned about slapdash, below-quality work by huge companies on what is probably the single largest personal investment these homeowners will ever make.
It's not just the poor workmanship that's hard for people to accept; it's also the fact that once the construction is done, the homeowners seem to have no recourse for addressing issues. They have no personal relationship with the builder, and their complaints fall on deaf ears.
When you build a custom home with a smaller, local builder, you enter into more than just a business contract. You're really partnering together to build the home that you want. It's collaboration. You're not dealing with someone who is here today and gone tomorrow—you're working together with someone from your area who will still be your neighbor after your home is complete. Here's a post that discusses how you should be involved with the custom homebuilding process.
It doesn't matter if you're perfect home is a cozy vacation place, a weekend escape, a single level home for your retirement of a larger home in which to raise your family. At Liberty we'll work with you to help you design and build the home of your dreams. That starts with offering a wide selection of great designs. But it also means listening to you and making modifications to those floor plans to better fit your needs, including changes such as room sizes, window placement, garage door location, additional space, higher ceilings, and more. In short, we want to build the home that's perfect for you.
Of course, to build the right home for your family requires finding the right builder for that home. If you're looking for practical help in making that selection, here is an article that features 10 great questions to ask any builder you're considering using.
In our mind, the perfect home isn't one that has absolutely no flaws. Minor imperfections are part of the homebuilding process. At the same time, if there is something about your new home that keeps you from enjoying it, you'll want to be sure you're dealing with a builder who will work with you to make it right so that it's the perfect home for you!