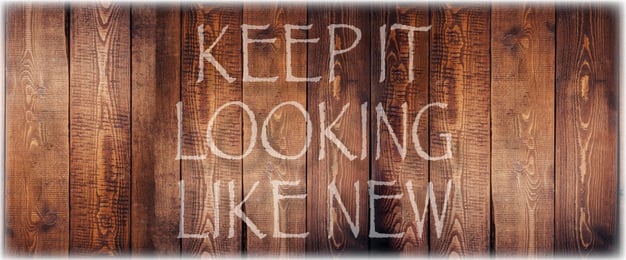 There's something special about moving into a brand new home that nobody has ever lived in before. Everything looks great, works great, and feels great. So how can you keep everything looking like new? Here are a few tips on how to care for a new home you just moved into.
For this post, we'll focus on a couple of the big issues that can have a dramatic impact on how your home looks and feels: Your countertops and your flooring. Then we'll close with another trick to keep your house looking great all year long.
Countertop Care
The countertops in your kitchen and bathrooms often set the tone for the whole room. Keeping them in great shape helps keep your new home looking new. But different counter materials require different care.
If you have quartz countertops, you don't have to worry about having them sealed. That makes maintenance a little easier. Clean your countertops with a soft cloth, and some soap and water, or a mild household cleaner. Don't use abrasive pads and powders (such as Ajax) that can damage the surface. You also won't want to use bleach or other harsh chemicals. Even though quartz resists stains, it's a good practice to wipe up spills immediately to avoid them.
Granite countertops, on the other hand, often require semi-annual or annual sealing to keep them protected. Even though granite is very durable, it is subject to staining (from things such as red wine). But before you do that, check with your manufacturer (or the builder who installed them) to make sure. Some surfaces come pre-sealed. Regular maintenance is as simple as using warm water and a few drops of dish soap applied with a soft cloth. Then rinse your surface with clean water and dry with a soft cloth.
If you have stainless steel counters in your kitchen, you have one of the easiest surfaces to maintain. Just use a microfiber towel and cleaner made especially for stainless steel to buff them out. Avoid abrasive scrubbing pads or steel wool because they can scratch the surface. Despite its name, stainless steel can stain a bit—but you can buff discolorations out with some stainless-steel polish and a microfiber cloth—applied in the direction of the grain. Then buff it dry with a clean microfiber cloth.
By the way, if you're still thinking about building a new home, here's a helpful post that can help you choose the right counter materials for your new Poconos home.
Flooring Maintenance
Another surface that gets hard use every day is your flooring. At the same time, your floors are essentially the foundation for everything in your home, so you want them to look good.
If you've selected stone or stone tile for flooring in your kitchen or entryway, you'll want to sweep it with a soft broom every day or vacuum it with a hard floor setting. Weekly mopping with a damp soft mop head or sponge and a diluted floor cleaner will keep grit and dirt from building up and damaging the stone. Use a soft scrub brush and mild cleaner on the grout between tiles and wipe up residue to keep the grout looking good. If you happen to get oil stains (i.e. from food) you can get rid of those with a cotton ball dipped in acetone. Immediately flush the area with water from a dampened sponge.
Many homeowners opt for beautiful hardwood floors throughout much of the house. Here are a few tips to keep those floors beautiful. Regular sweeping or vacuuming is a given. You don't want sand or grit to scar your flooring. You can periodically use a hardwood cleaner to eliminate dirt without damaging your floor's finish. Stay away from oil-based, wax, polish or products that contain ammonia that can dull the finish). Don't use steel wool or abrasive cleaners. Keep excessive water off your floor (don't wet-mop the floor) because that can cause the flooring to warp and can even you're your warranty. Do install slide pads on chairs and other items that are moved across the surface. That will keep the floors from scratching and looking worn.
If you're still in the planning stages for a new home, here's an article that can help you evaluate your options for flooring in a new Poconos home.
Keep It Clean and Organized
One reason a brand new home looks so good is that nobody has been living in it long enough to mess things up! Kids haven't been tracking dirt in. The dog hasn't left hair all over the place. Even the yogurt in the refrigerator hasn't had time to spoil! And on top of that, most things have been put away in their proper places.
It's easy to let things creep up on you until they reach a level where you're no longer comfortable. That's when a lot of us tackle the massive task of Spring Cleaning. But if the thought of that activity causes a shudder to run down your spine, you could always take things in more manageable measures. One way to do that is to have monthly maintenance tasks so you don't have to handle everything at once.
Not long ago The Washing Post ran an online article about How to keep your house running smoothly, month by month. You can read the whole article here, but essentially the article proposes assigning a few specific tasks to specific months of the year. For instance, in January your tasks would be Clean Kitchen Light Fixtures; and Declutter. February's jobs would be Dust Baseboards and Vents; and Clean LR/DR Light Fixtures.
You get the idea. Nothing is overwhelming or too time-consuming. By doing a little bit each month you keep up—and keep your new Poconos home looking great!