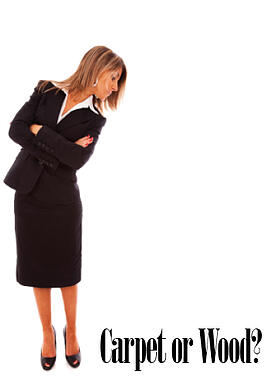 There is a part of your home that you use every single day—even though there are times when you don't give it a second thought. And yet, if you don't choose wisely when selecting this critical component in your new home, your choice will haunt your steps for years. Of course, I'm talking about your choice of flooring.
Choosing what kind of flooring you want for your new home has significant impact on the way your home looks and feels. For a lot of homeowners, the choice comes down to carpet or wood. Which is right for your home?
Appearance Isn't Everything—But It Is Important: The flooring material you choose makes a big difference in the way your home looks. Wood floors are extremely popular today and they tend to enhance the look of open design plans while adding a sleek, clean look. Some people, however, prefer the warm look and feel of good carpet—and like the way that it muffles noise. One advantage that wood floors have in an open floor plan is that they provide visual continuity from room to room while allowing you to define individual spaces with area rugs.
Which Is More Durable?
Carpet in heavy traffic areas can begin to show wear fairly quickly. Spills on carpet can be harder to clean up and can leave stains. Quality carpeting should last approximately 10 years (by which time the styles will likely have changed anyway—so you'll want to change it). Most good hardwood floors have a finish warranty of 25 years or more. Even then, the floors can be refinished and should last a long, long time.
How Does Maintenance Compare?
You really need to take care of both carpeting and wood. You should clean your wood floors (with a wood-cleaning solution) every three or four weeks. You'll still need to sweep regularly—especially if you have pets. Carpets generally need vacuuming weekly. And even with that regular maintenance you'll want to have them professional cleaned once or twice a year.
Are Allergens a Concern?
Carpeting can trap dust, hair, skin, and other allergens. If you have a family member with allergies, that can be a problem. Regular sweeping of wood floors generally takes care of that problem.
Is There a Difference When You Sell?
Right now, more homebuyers tend to want wood more than carpet—and are willing to pay more for it. The National Association of Realtors claims that, on average, homebuyers will pay approximately $2,000 more for a comparable house that has hardwood floors.
What's the Difference in Cost?
Specific prices can vary, but in general, you'll pay in the range of $9-$12 per square foot to install hardwood floors generally cost in the range of (although reclaimed wood flooring can up to $30 per square foot). Carpet installation, on the other hand costs approximately $4-$5 per square foot. Bear in mind, however, that you may pay more for wood initially, but because it's more durable (and has a higher resale value) it may be a better long-term value.
Some homeowners like the warmth and feel of carpet in sleeping areas (where there is also less traffic and less likelihood of dealing with spills), so they choose carpeting for bedrooms and install hardwood in the more high-traffic common areas. And some people simply like the feel of carpet underfoot. You have to go with what fits your preference and your lifestyle.