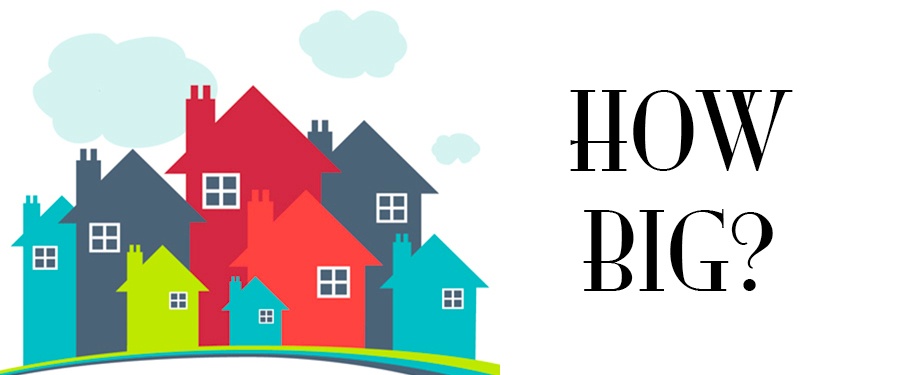 When it's time to build your Poconos home one big question is, "How big should your home be?" According to aei.org "New US homes today are 1,000 square feet larger than in 1973 and living space per person has nearly doubled." While the trend over the last several decades has been toward larger homes, increasing numbers of prospective homeowners are asking if bigger is really better. Often the real issue is not more space, but space that is better designed and makes you feel comfortable.
You've heard that "one size doesn't fit all," and that is certainly true when it comes to building a new home. So what are the factors you should consider when deciding what size home is right for you? Let's look at a few of the determining factors.
How Much Space Do You Really Need?
Obviously, if you have a larger family, you'll probably want a larger home with more bedrooms. The same holds true if you have a lot of out-of-town guests who visit regularly. Or, you may enjoy entertaining. That might mean choosing a floor plan that has fewer bedrooms, but larger common rooms (including the kitchen, family room, and dining room).
If you work from home, you may want a house that will accommodate a comfortable home office. Or if you have hobbies or crafts that require extra space, you'll want to take those into consideration.
One thing that's easy to overlook is planning adequate storage for your home. Even a larger home can look cluttered if there's not enough storage space. Of course, you could simply add a storage shed on your property, but that's not always an attractive solution—and it's not always convenient for accessing things you need. Instead, you may want to add adequate storage to the inside of your home. Here's a post that highlights 6 unique storage ideas for your new home.
How Much Space Do You Want to Maintain?
The larger your home, the more time you'll need for cleaning and maintenance. If you're truly utilizing all the space you may be happy to clean it and make sure it stays in good condition. It's not much fun to think about cleaning and maintaining space you seldom use. And you will also want to think about the additional cost of heating and cooling the extra space.
What Are Your Future Plans and Needs?
What will your needs be 10 or 15 years down the road? It might be that navigating stairs right now is no big deal. But if you plan to stay in your home for the long run, you might want to think about a somewhat smaller home—and even one that takes stairs out of the equation. If you're considering building a place in which to retire (and here's a look at why the Poconos region is a great place to do that) you'll want a place where you can feel comfortable now—and for years to come.
What Other Factors Should You Consider?
The size and condition of your lot can have an impact on the size of your house. If you're building on a smaller lot, an oversized home may not be ideal. You may also run into some building restrictions in some areas that will determine how tall your home can be and how close to the lot lines you can build. Of course, an obvious factor is cost. Larger homes require more materials and generally require more labor. That pushes your cost up. There's nothing wrong with that if it's what you truly want and need—and you have the budget to accommodate that decision. If you're keeping an eye on costs, however, it's something you'll want to think about.
Your home should be big enough to allow you to live comfortably and conveniently. It should meet your current needs, but also be adaptable should your needs change. And it should fit your budget. Click here for a look at a variety of floor plans we offer that can help you decide not only what size home is best for you, but also which layout and design best matches your lifestyle and needs.