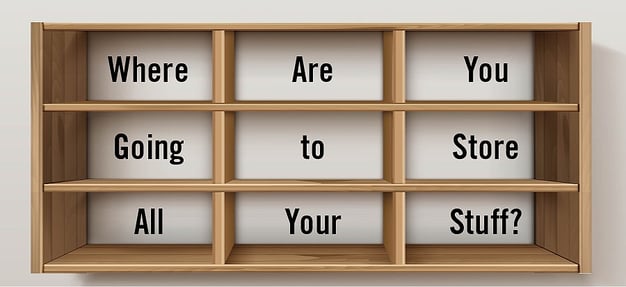 Size is a major factor in choosing a floor plan for your new Poconos home. You don't want to pay for more home than you really need. On the other hand, you don't want to end up with a home that's too small for you to be comfortable. Here's a post that helps you answer the question: "How big is big enough?"
Sometimes, however, it's not merely a matter of square footage. Clutter can make a home feel smaller than it actually is. If you don't have space to store things that aren't in constant use, that can make your home feel crowded. Here's a look at six creative storage ideas for different rooms in your home. By planning ahead, you can actually build-in storage that doesn't take away floor space—or visual space.
1. Kitchen Storage
Even more modest sized kitchens can hold an amazing amount of "stuff"—if they're designed properly. Take a look at this kitchen. Every square inch of available space has been put to us. There's a spot for the seldom-used blender. The wine rack holds an ample supply. Cookbooks are easy to access (but hidden when not in use). On top of that, deep slide out drawers offer lots of space to store items, but make it easy to get at them even when they're at the back of the drawer. Even the spice rack utilized narrow space beautifully.
2. Hallway Storage
So often space beneath stairs goes unused. If you're considering a home with a second story, you may be able to take advantage of that space. Here's an example of how one homeowner did it—installing drawers under the stairs to keep things such as candles, cloth napkins, placemats, or decorations. Another option might be to turn this space into a creative-looking bookcase.
3. Stair Step Storage
Here's one of the more creative storage ideas we've seen in a while! If you get tired of tripping over shoes around the house, on the stairs, and even in your bedroom closet, you could actually store your shoes inside your stairs! Of course you don't have to limit yourself to shoe storage—but this space could be made available.
4. Garage Storage
A lot of people install shelving and pegboard in their garages in order to store tools where they're easy to get at. But here's an idea that takes garage storage to another level—up off the floor. As you can see in this photo, the homeowners even store their deck furniture up above the cars. It keeps outdoor furniture out of the harsh elements in winter (great for the Poconos) and extends the furniture's life.
5. Bathroom Storage
You've probably seen recessed medicine cabinets for bathrooms before, but this one has a unique twist. Instead of a mirrored door that swings out to open, this one slides to one side. This can be a great solution if you have a somewhat smaller, narrower bathroom that doesn't offer a lot of storage options.
6. Decorative Towel "Closets"
Who said that towels had to be stored in linen closets? Here's an interesting idea for storing extra towels in a way that keeps them out of the way, makes them easy to get at when you need them, and actually makes them look like a design fixture! And as an added bonus, you don't have to give up any floor space in your bathroom—which makes it feel more spacious and luxurious!
Sometimes, when choosing a floor plan for a new home in the Poconos, the biggest issue isn't how much room you have (in terms of square feet), it's how you use the space you've got. If you've got questions about how to choose the best Poconos home, we'd love to talk with you and offer a budget range; some insights into what others in your situation are doing; some design trend ideas; and answers to your other questions. Click here to schedule a no-obligation review of your questions and needs!