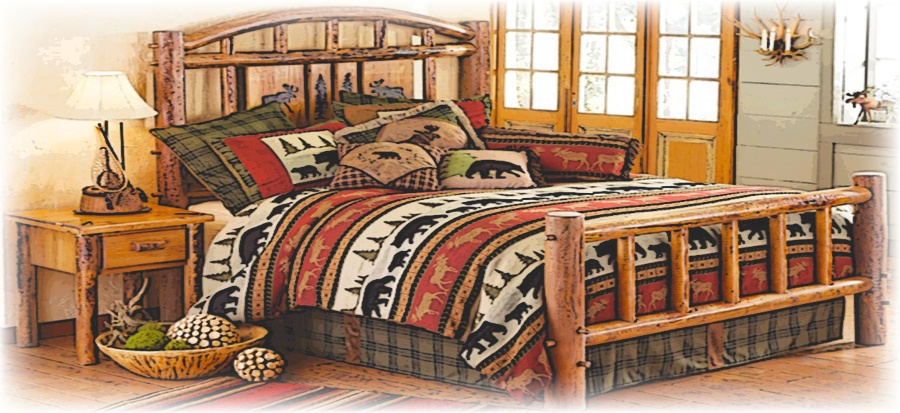 You've probably heard the old adage that, "Clothes make the man." What a person wears tends to make a statement about that person and accentuates his or her personality and style. To some degree, your furniture does the same thing with your home. We've talked before about what gives a home a "Poconos style." And while the architecture certainly plays a significant role, the furniture you choose for inside your home plays a big part in setting the style as well. Let's look at some furniture ideas for your new Poconos home.
First of all, there is no "right" or "wrong" style for your new Poconos home. You'll want to choose items that make you feel comfortable and at home. At the same time, the reason why many people move to the Poconos area exactly because it's a little different than what they're used to. They like the idea that the pace is slower and that the whole area has a more rustic and "woodsy" feel to it. So with that in mind, we're going to look at a few examples of furnishings that reflect that character.
Kitchen
If you think that "rustic" and "modern" are mutually exclusive, the kitchen you see pictured here may make you think again. Not only is this kitchen light and bright, but it also incorporates a decidedly open concept design that is extremely popular today. At the same time, the elements of wood and stone are prominently featured. Note the very modern stools at the island counter and the modern pendant lights. This is not your grandmother's Poconos kitchen! Click here for more rustic kitchen inspiration!
Guest Bath/Power Room
If you want a guest bath or powder room that exudes rustic charm it's hard to beat the stark beauty and simplicity of wood and granite that this powder room offers. Plaster walls, a wood block pedestal for the sink, and a granite floor combine to give the room simple, rough, elegance.
The Master Bedroom
Here's a look at one way to add a rustic touch to the Master Bedroom. This natural wood bedroom set brings a casual, rustic feel to the room—without looking dated. The pieces shown here happen to be Oak, but you could opt for other natural finishes. The wardrobe to the right of the fireplace is a nice "throwback" to a simpler time as well.
Master Bathroom
Adding a rustic, "mountain" feel to your master bathroom can be as simple as including an old (or "made-to-look-old") piece of furniture such as the vanity you see pictured here. You might even be able to pick up an antique piece in an antique shop in one of the numerous quaint towns scattered throughout the Poconos. The simple wooden frame around the mirror also adds to the casual, woodsy feel of the room.
Once again, your style should reflect your personality. But if you want a home that also reflects the natural beauty of the surrounding Poconos area, these ideas may just get your creative juices flowing.