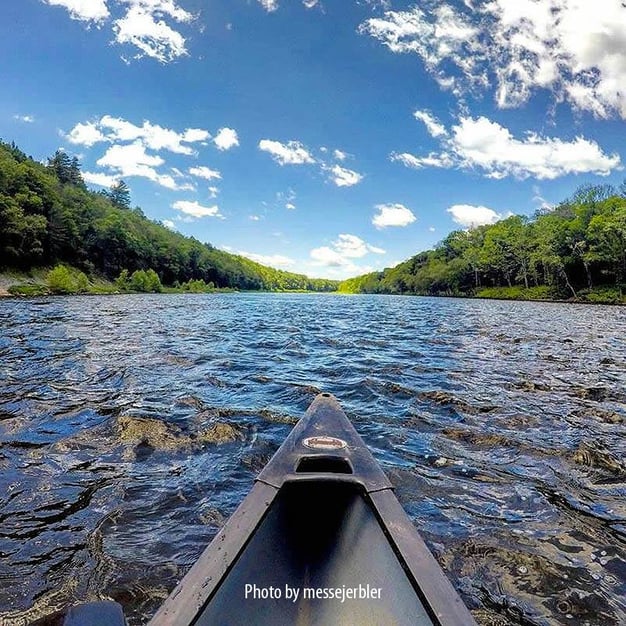 The Delaware Water Gap provides endless opportunities to explore the beauty of the Poconos along the waterways or right on the river itself.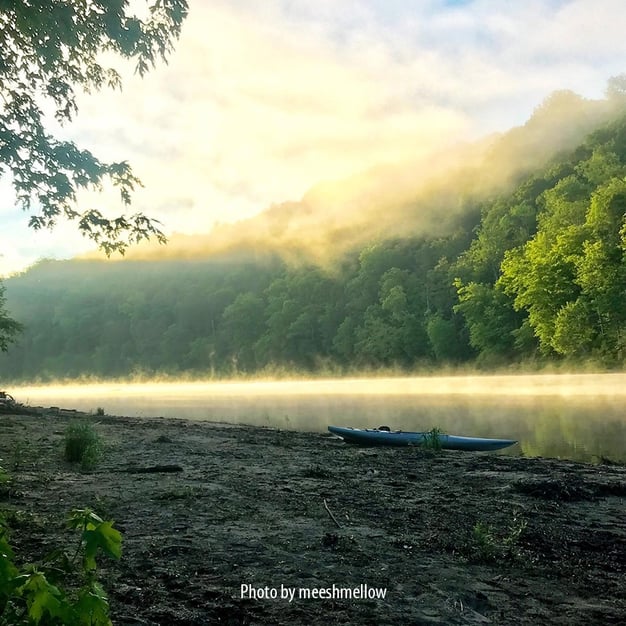 Not all river adventures in the Poconos are adrenaline-filled white-water and white-knuckle affairs—as evidenced by this bucolic scene along the banks of the Delaware River.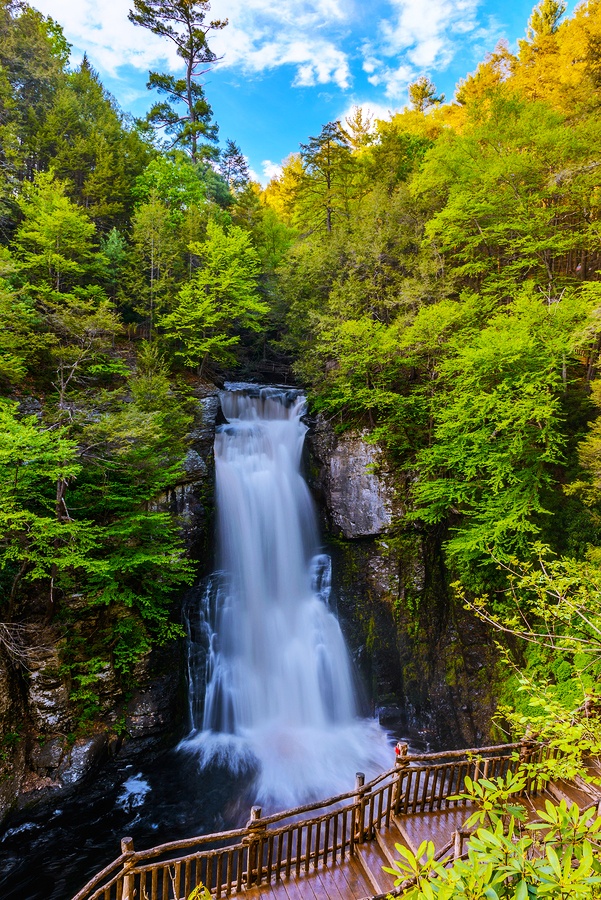 It's hard to talk about gorgeous Poconos scenery without mentioning a visit to the famous Bushkill Falls. The "Niagara of Pennsylvania" is beautiful any time of year, but when the colors begin to turn, it's absolutely spectacular!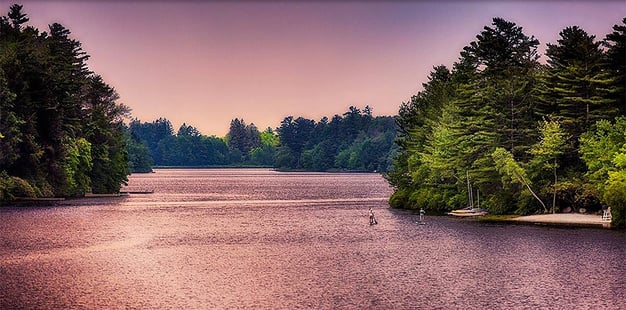 In addition to the many rivers and waterfalls, you'll find in the region, the Poconos Mountains are also home to a multitude of lakes such as beautiful Lake Naomi, pictured here. Lakeside living in the Poconos can be a dream come true!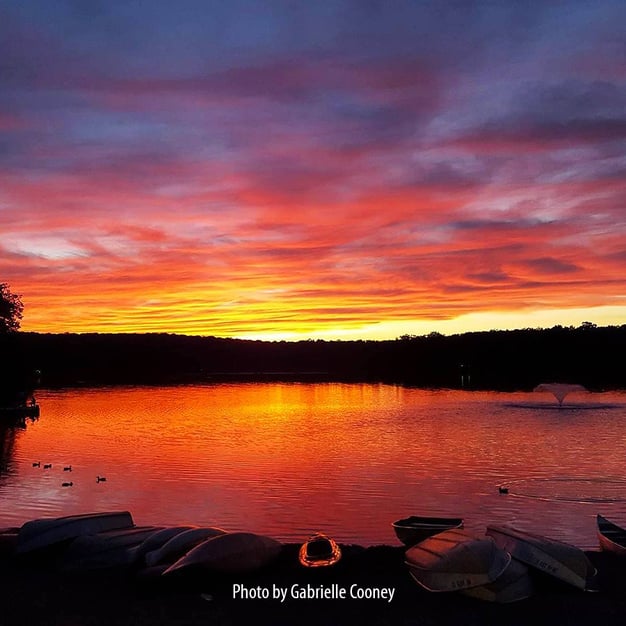 Otter Lake Resort is another fantastic place to enjoy lakeside views at any time of day. There is, however, something special about a lake view at sunset!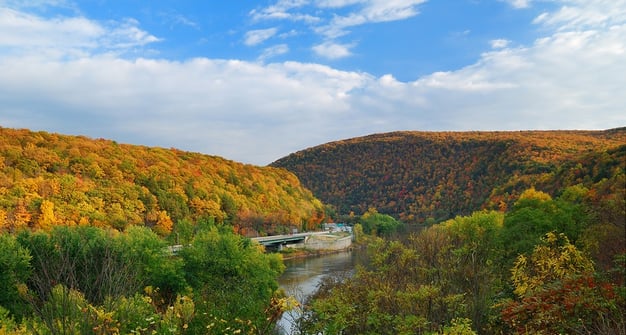 It's no wonder people come to the Poconos from miles around in the autumn for some of the best leaf-peeping anywhere. And when you mix spectacular colors with running water, it's a little taste of heaven! And there are plenty of fall activities in the area as well.
Often when people think of the Poconos in winter, they think of skiing and other winter activities. It's true that the region is a great place to enjoy winter sports, but it's also just a beautiful place to look at when the snow covers the ground.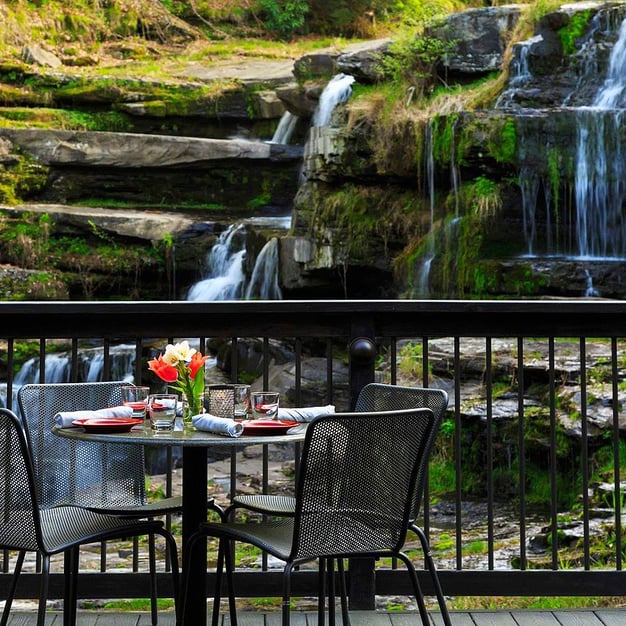 You don't have to be out and about to enjoy the visual feast that the Poconos area offers. As a matter of fact, you can feast your eyes while feasting on a great selection of fantastic food offerings throughout the region.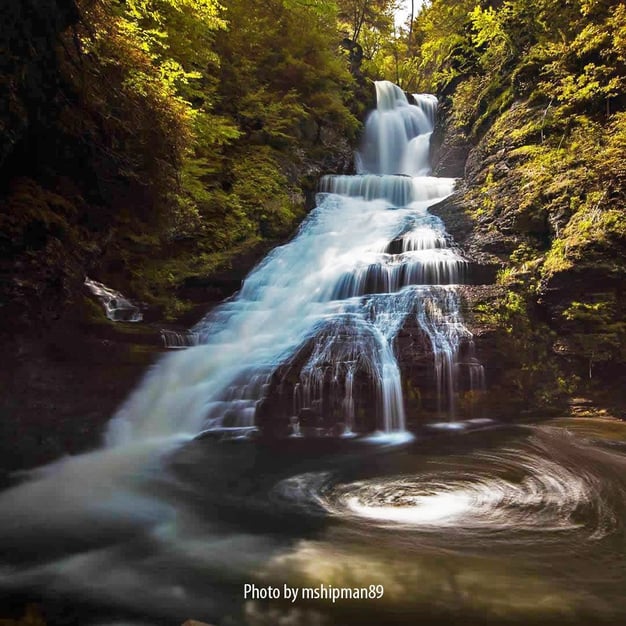 It's always fun to explore and find new sights in the Poconos. And while Bushkill Falls may be the best-known Poconos waterfalls, there are plenty of other hidden treasures in the region, such as Dingman's Falls shown above, or Mt. Hickory and Factory Falls shown below.
And sometimes there's just nothing quite like taking a slow drive down a quiet side road that meanders through serene and relaxing Poconos scenery with no particular destination in mind.