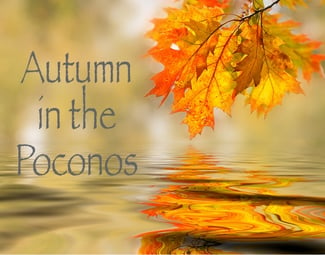 Just because the calendar says it's fall that doesn't mean you have to hole up inside. If you're lucky enough to live in a place like the Poconos, you know that it's truly an all-seasons area when it comes to outdoor activity. Here's a look at some great autumn events you can take advantage of in the Poconos region—both inside and outdoors.
Enjoy Fall Colors
Let's face it, who doesn't love a lovely turning leaf? The Poconos are spectacular in the fall. If you're looking for the best times to view the turning of the leaves—and the best places to go to observe them, check out this Leaf Peeping FAQ page for all the best information about fall foliage in the Poconos Mountains.
Revel at a Fall Festival
The Quiet Valley Farm Festival Weekend is a chance to step back to the 1800s for the experience living on the farm. Discover what fall on the farm in the 1800s was like. Enjoy dozens of craft demonstrations including bee keeping, cider making, spinning, weaving, basket making, quilting and hearth cooking. The festival will be held on Saturday and Sunday, October 8th and 9th from 10 am to 5 pm. Click here for more information. Or live life as a lumberjack for the weekend at the Timber Festival at Shawnee Mountain and enjoy entertainment, music, food, and lumberjack events. Click here for details.
Have Fun at an Oktoberfest Celebration
Join Blue Mountain for their annual Oktoberfest on October 1 and 2, 2016, from 12Noon to 8:00 PM! Enjoy live polka music, delicious food, beer, and fun! Email: nwescoe@skibluemt.com for more information.
Kick Something Off Your Bucket List
Spend the weekend at Jim Thorpe's Fall Foliage Weekend and discover why this event was recently listed on the 28 Things to See or Do in Pennsylvania Before You Die bucket list. You and enjoy scenic train rides, handmade arts and crafts, delicious food, free live music all day on four stages in the walkable downtown area. There are bike-rides and hikes along the rail trail, fun children's activities, spooky ghost tours, headline acts at the Opera House—along with seasonal specials from 12 restaurants and 36 shops! Click here for more information.
This is just the tip of the iceberg when it comes to Fall fun in the Poconos. Get out there and enjoy it!