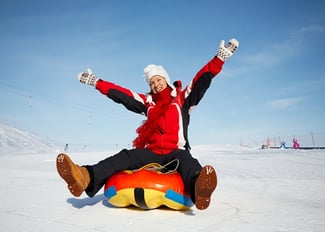 When you think of winter attractions in the Poconos, it's natural to think of great skiing. With more than 185 trails in the region that's no big surprise. There are plenty of skiing and snowboarding opportunities from which to choose. You can check out some of the major areas to see which one suits your personality and style, including:
There is something for every level of skier here in the Poconos with 35 percent of the trails designated for Beginner/Novice skiiers, 32 percent Intermediate level, and 33 percent devoted to Expert-level skiers.
There are more snow-related activities, including snow tubing at most of the resorts. Or, for something different try a horse drawn sleigh ride through the snow covered mountains (when natural snow is available) at Daisy Field Farm, or at Manor Sports at Pocono Manor. Or you can take to the toboggan run at Skytop Lodge for some fast-paced fun the whole family will enjoy! You can also create memories with an old fashion horse-drawn sleigh ride from Pocono Country Carriages Inc.
You don't have to be outside to have fun in the Poconos in the winter. You might want to check out the Dorflinger Glass Museum, that features a collection of over 900 pieces of Dorflinger glass, the largest collection in the nation. You can take a self-guided tour to see Dorflinger glass decanters, vases, bowl and sculptures up close, and learn about the history of the Dorflinger family.
If you love toys, you'll want to explore Eddie's Toy Museum and Store, which houses the world's largest private toy collection (including more than 20,000 toys, puzzles, games and dolls). For racing fans, the museum pays tribute to Dale Earnhardt, Sr. with more than 1,800 racing toys. You'll also find a massive Pez collection, fire trucks, Harley-Davidson memorabilia, Coca-Cola merchandise and NASCAR toys. Eddie's Toy Museum and Store is at 1 Fenner Ave. Sciota, PA 18354 (Phone 570-402-0243).
Want to forget about winter for a while? The Poconos has three great water park resorts where you and the family can splash the day away like it's the middle of summer! Choose between Great Wolf Lodge, Kalahari Resorts, and Camelback Lodge Aquatopia. Click here for more information on each of these great options!
Whether you want to be inside or outside this winter, there's always plenty to do in the Poconos—all year round!