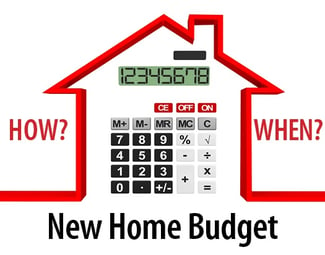 An important part of building a new home in the Poconos region is establishing a realistic budget for your new home? Why is that so important, and how and when should you do it?
Let's start with why it matters. You've heard a thousand times that buying a home is most likely the single largest personal investment you'll make. That means you need to be careful that you make a wise investment. Why do we emphasize having a realistic budget? If you set your budget too high (more than you can really afford) you can find yourself in financial trouble. That can also happen if you set a budget that seems realistic and then overspend it (here's an article about some of the most common areas where homeowners blow their budgets). It's no fun living in a gorgeous new home if you're constantly worried about not being able to make the payments.
Budgeting too low can also cause problems. Sometimes homeowners focus too much on saving money. The problem with that is that they often end up with a home that's less than what they wanted or needed. Then they have to make changes after the home has been completed (either expanding it or adding upgrades to make it fit their needs). That actually ends up costing more! Plus, they simply don't enjoy their new home as much as they should.
How can you set a realistic budget? This actually covers the "when" question as well. Figure out a realistic budget before you start searching for your new home. It may be a preliminary budget (and you may come back and change it a bit) but it will provide you parameters. There's no point looking at $300,000 homes if your real budget is in the range of $150,000 to $200,000.
Some people like to use a basic load calculator to get a rough idea of what they can afford. That's OK for a rough estimate, but often these simple online calculators don't tell the whole story. They don't take into consideration other expenses you might encounter. A better strategy is to visit a number of lending institutions and find out what kind of loan you qualify for. Lenders will dig a little deeper to make sure you don't get hit with surprises.
Once you have a preliminary budget, you may have to go back and re-evaluate your expectations. That doesn't mean you should settle for less quality, but you may have to make some choices about what you really need and what you can afford. Here's a helpful post about balancing you budget and your expectations.
Don't let an unrealistic homebuilding budget keep you from building the Poconos home that's right for you. Establish a budget early in the process. Revisit it if you need to in order to make sure our budget and your expectations are in balance.