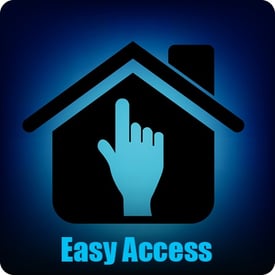 There is a lot of emphasis on making things easy to access this day—whether it's access to information, entertainment, news, or items you want to purchase. But what about providing for accessibility within your own home?
It can be easy to assume that you'll always have the same ease of access to essentials in your home that you have now. If we're honest, however, we don't know what kind of physical limitations we (or our family members and friends) may face in the future.
One of the advantages of building a custom home is that you can build in accessibility from the very beginning. But why would you plan and build for something now that you might not need for many years to come?
For one thing, you can't know ahead of time when you might need to make accommodations for a family member or friend who has restricted mobility. Accidents or illnesses can come on suddenly and without warning. Having to remodel your home (or move) at the time when you're facing a life-changing event will add stress that you probably won't want.
Beyond that, there are financial implications to building in accessibility up front rather than later. Things such as widening hallways to allow easier wheel chair access or reinforcing the walls in your master bath to accommodate grab bars is much more difficult—and expensive—to do after the fact.
If you want to plan for a home that will allow you or another family member to navigate easily, what kinds of things should you consider? One way to do that is to look at any existing plan for your future home through the eyes of someone whose mobility is restricted. Are the hallways and doors wide enough? Are switches for lights and fans placed where someone seated in a chair can easily reach them? Are your electrical outlets placed where they are easy to get at—or are they too close to the floor?
You don't have to make your home look like a nursing home, but thinking about size, location of switches, and things such stairs when you review floor plans can make it so much easier to continue to feel at home in your house down the road. Remember that when you build, you're not just building for today or tomorrow, but for what your needs could be 20 years down the road.