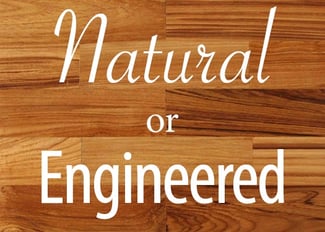 For some homeowners there is simply no substitute for genuine, natural hardwood flooring. If they're going to install wood floors in their new home, those floors are going to be real wood. If the feel of actual wood is important to you, that may be the right choice. There's nothing quite like it.
Often, however, when homeowners think about engineered wood floors, they think about some of the early artificial flooring products from years ago that looked and felt a lot more like plastic than wood. Engineered hardwood floors have come a long way since those days.
As you've probably surmised, there are advantages to both natural hardwood and engineered hardwood floors. Let's look at a brief comparison.
One of the biggest advantages to natural wood is that it can be refinished many times and will keep on looking great. Of course the flip side of that benefit is that it may need refinishing. If you move furniture often or if you have dogs, your hardwood floor can show the wear. Engineered flooring is more resistant to scratching.
Engineered flooring can be used on almost any level in your home. Natural wood is generally not recommended for basements because moisture can cause it to swell and buckle. The same would be true for bathrooms.
Cost is a factor to consider. In general, natural wood floors cost more. The material is more expensive and they can take longer to install. Conversely, you may be able to get more money back when you sell your home if you have a hardwood floor.
Hardwood flooring expands and contracts with changing temperature and humidity levels (it swells in hot, moist conditions and shrinks in cold, dry conditions). That's why quality contractors leave a gap of 5/8" to 3/4" where the walls meet the floor, and then install base molding to hide the gaps.
If you have someone with health problems in the home, there can be problems when wood floors get wet. Mold and fungus can grow and trigger asthma, or fungal respiratory infections. That's relatively rare, but it's something to consider for people who are susceptible to those kinds of problems.
The point is that the engineered flooring available today actually looks awfully good. You simply have to weigh the advantages and disadvantages described above. But it's worth taking a good look at quality engineered flooring before you dismiss it out of hand.