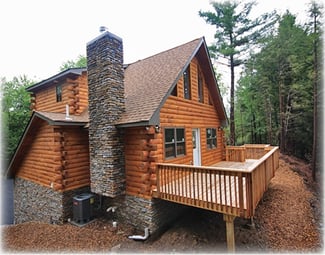 Some homeowners want their homes to take on the character of the environment around them. For someone living in the Poconos, that might immediately conjure up images such as a log-cabin-style home (like the one you see pictured here, which we built for a client not long ago). Here are some additional thoughts about what gives a new home a "Poconos style."
Often, however, it's what's on the inside that gives a home its character more even than the exterior appearance of the home. Your home is an extension of you, and it should reflect your style and personality.
A lot of that has as much to do with the layout and design of the home as it does with color schemes and finishes. If you like to cook for guests and you enjoy causal events, your kitchen may be the focal point of your home. You might want to build extra seating into your kitchen/dining room area—or choose a floor plan in which the kitchen opens up to the family room so that guests have the option to walk around without leaving you stranded by yourself in the kitchen.
As an example, take a look at the custom kitchen in this Poconos home. There's nothing rustic or "country" about it. But it exudes style and character—and it's a perfect fit in the Poconos environment. We invite you to browse through our custom home photos to get a feel for the many different ways your Poconos home can reflect your personal style and capture the kind of character that will make it your home.
Another way you can incorporate the beauty of your Poconos surroundings without evoking the rustic feel of a log cabin is to include large windows and skylights in your home like you'll find in the Lakewood II floor plan. These features let in lots of natural light and bring the beauty of the outdoors right into your living room.
What really adds character and personality to your Poconos custom home? You do!