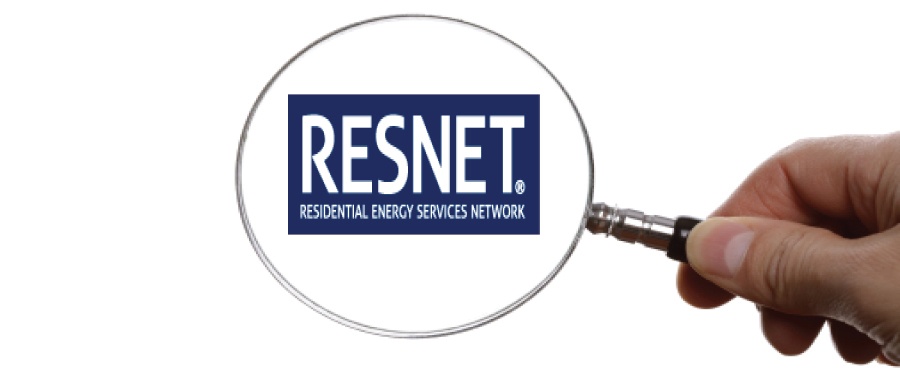 Sometimes buying a new home feels a little bit like a big bowl of alphabet soup. You're exposed to acronyms that you don't run into anywhere else. You have to deal with PITI (Principle/Interest/Taxes/Insurance) on your mortgage loan. You may find yourself comparing HVAC (Heating Venting Air Conditioning) systems. In a lot of cases, you'll find yourself in a relationship with an HOA (Home Owners Association). There's one acronym, however, you may not be familiar with that can make a big difference when building your new Poconos home. What is RESNET® and why does it matter?
What is RESNET®?
RESNET® is the Residential Energy Services Network. It's a not-for-profit, membership corporation, governed by a board of 20 (who are elected by membership). It is a recognized national standards-making body for building energy efficiency rating and certification systems in the United States. RESNET's standards are recognized by a number of industry organizations and government bodies including. Builders, contractors, Federal government agencies (including the IRS for tax credits), the EPA (for ENERGY STAR qualification), and the U.S. Department of Energy recognize RESNET standards. The organization was created in 1981 to establish a way to measure the financial savings generated by energy efficient features in a home and to credit qualified homes' energy efficiency in the mortgage loan.
What is the HERS Index?
The HERS, or Home Energy Rating System, Index is the measurement used to rate energy efficiency of buildings. But what does any of that mean for the home buyer?
Essentialy, it means comfort. A home with a low HERS Index rating has been built for optimal energy efficiency. This ensures that your house was built with consideration to maintaining warmth in winter months and encouraging cooling in frequently used rooms during the summer, for example. On top of being a more comfortable home based on temperature, you will be more comfortable with considerable savings on energy in the future. You will even be eligible for tax credits.
The goal is to reach "Net Zero" which refers to a home that produces as much energy as it consumes. Not only are these homes more comfortable immediately, but they also create comfort moving forward with higher resale values, reduced energy bills, and other such benefits.
What Does It Matter for You?
There are two significant benefits to purchasing a RESNET® qualified home. One is the financial benefit, and the other is the improved comfort.
Financial Benefits: You'll find two financial benefits when you build a RESNET® certified home. One is that you can qualify for an Energy Mortgage. Energy mortgages are sponsored by both federally insured mortgage programs (i.e., Federal Housing Administration and Veterans Administration), as well as the conventional secondary mortgage market (i.e., Fannie Mae and Freddie Mac). Energy mortgages provide borrowers with benefits such as an increase in purchasing power (through cost savings), increased market value of homes (energy-efficient homes are more desirable). In addition to those benefits, owners of these homes will pay less in utility costs. (By the way, did you know that the second highest cost of home ownership today is energy?)
Comfort Benefits: RESNET® homes are more comfortable (cooler in the summer and warmer in the winter) without costing more to heat and cool. In addition to that, these homes are healthier for you and your family.
Environmental Impact: A lot of people choose to live in the Poconos region because of the natural beauty they find here. RESNET® homes help preserve that natural beauty because they use less energy (without sacrificing comfort) and that has less impact on the surrounding environment.
Cost Effectiveness: A job done by a professional who is specially trained in energy efficiency can result in your using less energy—resulting in lower energy bills for you each month. And even the best energy-efficient products—if they aren't properly installed—won't give you the energy savings and comfort you want.
Additional Protection: If you ever have a problem with installation, you have the security of knowing that RESNET has developed a complaint resolution process for any homeowner who is concerned that their contractor has acted outside the RESNET Code of Ethics. RESNET stands behind you, as a customer.
How Can You Take Advantage?
Not every builder is RESNET®-certified. At Liberty, we're proud to be both a RESNET EnergySmart Builder and an EnergyStar certified builder! Here's a look at some of the additional advantages of using a RESNET®-registered contractor. If you're looking for a combination of comfort and energy savings in your new Poconos home, a RESNET®-certified contractor is a great solution!
You can find additional information about RESNET® on their website.