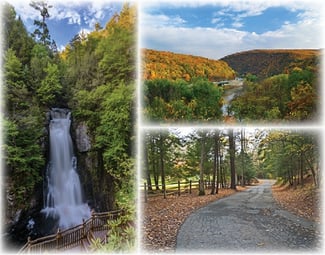 It's no secret that stunning views are one of the reasons that people flock to the Poconos. Some scenes (like the well-known Bushkill Falls you see here) are pretty much synonymous with the region.
There are, however, other natural wonders in the area that are perhaps not as well known. What are some of the "must see" natural wonders in the Poconos?
A while back the Pocono Record asked the people who really know best (their readers!) to share what they thought some of the best views of the Poconos. Here are some of their choices for the best natural wonders and beautiful vistas in the region (in no particular order)
Big Pocono State Park: Big Pocono State Park in Monroe County consists of 1,306 acres of rugged terrain on the summit and slopes of Camelback Mountain and features scenic views of three states, including parts of eastern Pennsylvania and portions of New Jersey and New York. You can enjoy a 1.4-mile, scenic drive. Discover more on their website.
Bushkill Falls: Known as the Niagara of Pennsylvania, Bushkill Falls offers hiking trails and observation decks for great views of the waterfalls and much more. Find more information here.
Cliff Trail: This 2.8 mile (one way) trail offers some of the most spectacular overlook views in the serpentine Delaware River valley from atop the Raymondskill Ridge. This view was so inspiring to early film makers that several westerns were filmed using this magnificent scenery as stand-ins for the landscapes out west. Click here for a map to the trailhead.
Hornbeck Creek Trail: Hornbeck Creek (or Indian Ladders) Trail is a 1.8 mile lightly trafficked out-and-back trail located near Dingmans Ferry, PA that features a waterfall. The trail is rated as moderate and primarily used for hiking, walking, nature trips, and birding. The trail is very well maintained trail, with lots of scenery and adventure
Raymondskill Falls: This is a series of three cascading waterfalls located on Raymondskill Creek near several other waterfalls in the area including Dingmans Falls, Bushkill Falls, and Shohola Falls. There are two viewing platforms, one near the head of the falls, and one at a large step that divides the upper two drops from the lower. The trail leading to the top of the falls is dramatic as the water cuts through the escarpment. Click here for more information.
Mount Tammany: Located in the Delaware Water Gap is a 3.2 mile heavily trafficked moderate loop trail located near Columbia, NJ that features a lake. The trail is primarily used for hiking, walking, trail running, and camping and is accessible year-round. The trail offers great views and a challenging ascent. It can sometimes be a little crowded at the summit.
Promised Land State Park: This Pennsylvania State park in Blooming Grove contains approximately 3,000-acre park is mostly surrounded by Delaware State Forest. You can enjoy approximately 50 miles of hiking trails in Promised Land State Park and the surrounding Delaware State Forest. It's a great site for nature study, relaxation and exploration. You can take the Bruce Lake Trail to a natural glacial lake, see the small waterfalls along Little Falls Trail or walk a loop around Conservation Island. Get more information here.
Those are just a few of the places locals cite as having great Poconos views. It's no wonder that smart homeowners are looking to make the Poconos their designated vacation spot, retirement destination, or permanent residence.