Poconos Ski Resorts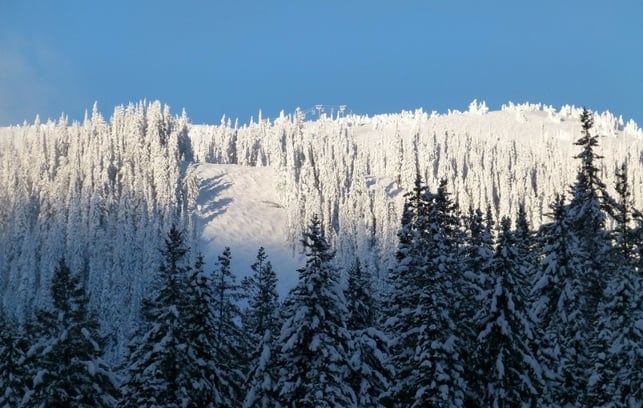 When it comes to ski resorts in the Poconos, you have many options! From the type of slopes to nearby attractions and more, you can easily find a ski resort with everything you need. On this page, you will find some of the best ski resorts in the Poconos! Check them out below:
Camelback Mountain
Camelback Mountain is one of the top ski resorts in Pennsylvania! It has been voted the number one resort in PA for 4 years in a row, and offers the largest skiing area and snowtubing park in the United States! 100% lit for night skiing, you will be able to enjoy skiing from morning until evening and even later. Camelback Mountain also offers learning classes for kids and adults so beginners can easily get up to speed. To top off the features of this winter playground, the resort also has an indoor water park. Check out Camelback Mountain and experience the fun!
Click here to visit Camelback Mountain's website!
Shawnee Mountain
A family oriented ski resort in eastern PA, Shawnee Mountain is located right outside East Stroudsburg, Pennsylvania! It is easily accessible from I-80, exit 309. Since it is on the eastern edge of the Poconos, Shawnee Mountain is a great choice for families and winter sport enthusiasts who live in cities such as New York City or Philadelphia. You will definitely enjoy skiing on this Poconos mountain!
Click here to visit Shawnee Mountain's website!
Jack Frost and Big Boulder
These two ski resorts have deep roots in the industrial era of Pennsylvania. It was here that snow making was first used successfully in commercial application! The Big Boulder Ski Area was the first ski resort in Pennsylvania and remains a popular ski destination to this day.
Jack Frost Mountain has a summit elevation of 2000 feet, base of 1400 feet, and vertical drop of 600 feet. It includes 21 different slopes. Big Boulder Ski Area devotes 50% of its overall terrain to park features. The base elevation is 1700 feet, and the summit sits at 2175 feet leaving the vertical drop at 475 feet. Big Boulder boasts15 innovative slopes ranging from beginning to advanced. Stop on by these historical ski resorts and see for yourself why they are still some of the best around!
Visit the Jack Frost and Big Boulder website here!
Blue Mountain
Blue Mountain has PA's highest veritical elevations for ski slopes as well as great terrain! Only 90 minutes from Philadelphia and 90 minutes from New York City so you can easily access this ski resort whenever you want! Blue Mountain offers skiing and tubing but also has a bunch of summer activities groups can enjoy. From laser tag to ropes courses and more, this resort ensures a fun time for your family!
Click here to visit Blue Mountain's website!
Montage Mountain
Just under 2 hours from Philadelphia and New York City and only 3 - 4 hours away from Baltimore and Washington, DC, Montage Mountain is an easily accessible ski destination! The resort features amazing skiing, snowboarding, and tubing and also has a waterpark for incredible summer fun.
Click here to visit Montage Mountain's website!