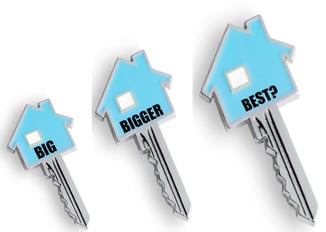 One of the decisions you'll face if you decide to build a new home in the Poconos is what size house to build. While there is a certain school of thought that subscribes to the "Bigger is Better" approach, that's not the right solution for everyone.
The size of homes in the U.S. has grown over the past few decades. In fact, not long ago CNN Money reported that the average size of homes built in the U.S. in 2014 (the most recent figures available) was 2,600 square feet. That's up from 1,725 square feet in 1983. But does that fact that homes have gotten bigger mean you should build a bigger house? Just how big is "big enough?"
For most homebuyers, however, the real question isn't how many square feet the home has, but how well the home meets the needs of the people who are living there. How much space you have between the walls of your home is secondary to how well that space is designed and used—and how well it fits your specific lifestyle.
Some families prefer a home with a kitchen that's open to a great room or family room and/or a dining area. It's great for families who like to entertain. The open space between rooms allows guests to move easily from room to room and still be connected to others. That open design creates a feeling of space—without having to rely on a larger footprint.
Some homeowners like to take their entertaining outside whenever possible—and take advantage of outside space on the deck (covered or uncovered) to extend their hospitality.
Some families choose to devote more space to sleeping quarters or other private rooms. If you have children living with you, it's possible that you want more private space for them. Or you may want a home office that's away from distraction so that you can work at home. You may want to provide a bit more distance between the common areas and the private rooms—distance that a home with a second floor can provide.
Rather than worry too much about the number of square feet in your new home, begin by thinking through how you want to use the space and look for a floor plan that meets those needs. We offer a number of plans in both single level and two-level living, in a variety of styles and sizes. And of course, if you want to make changes to a particular plan we can alter or redesign your home floor plan to suit your needs!