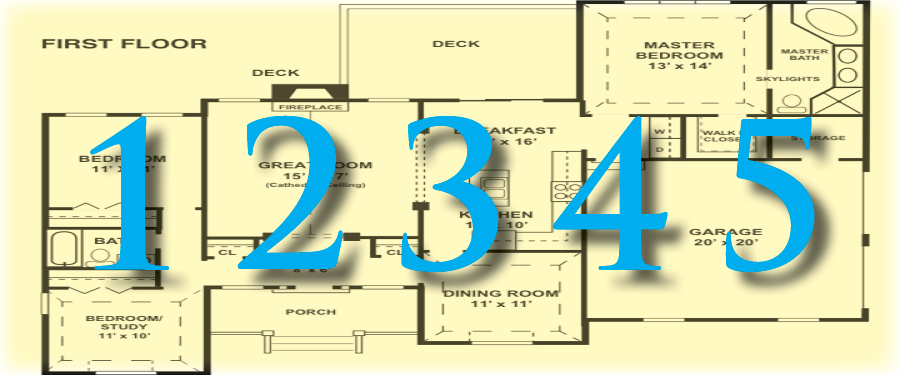 One thing our customers seem to appreciate about working with Liberty Homes is that we don't just offer one or two-floor plan options. In fact, we provide many floor plans, and if one of those floor plans doesn't meet your needs, we can either modify it to make it perfect for you or find you a new floor plan - one you'll love! We can also work with any ideas or plans you may provide or work with architectural plans provided by sites such as dongardner.com and others. Finally, we work with several local Architects and designers to develop a home plan specific to our clients wants and budget.
While having more options is a good thing, how do you end up with the plan that's right for you? Let's look at 5 things to consider when selecting a floor plan.
1. Lifestyle
When you build a new home, you want it to reflect the way you live. You want your new home to make it easy, comfortable, and convenient to do the things you enjoy. That can impact the style (and size) of the kitchen you want. The kind of cooking you do may influence the type of appliances you want. The way you use your home to entertain can influence how space is set up in your home. For instance, if you enjoy casual entertaining (with people hanging out in the kitchen and dining areas), you may want to choose a very open floor plan. If you prefer quiet dinner parties with intimate conversations, you might choose a plan that has a separate, enclosed dining room (such as our Baldwin model). The point is, you should choose a plan that fits your lifestyle—rather than try to change your lifestyle to fit a particular plan.
2. Space Needs
How big does your home really need to be? Not everyone needs a huge home. But don't underestimate your need for space. It's a common experience for people to move into a new home and think they'll never run out of space—only to discover just a few years later that they're feeling crowded. That can happen if your family grows (you may have additional children or your existing children have gotten bigger and want their own space). You may find yourself caring for an older parent. And while it's never smart to buy more home than you need, it's much easier (and less expensive) to expand into existing space than it is to add space later.
3. Your Changing Needs
Your need for space isn't the only thing that can change. Depending on how long you plan to stay in your home, your personal needs may change. If you're thinking about retiring in the Poconos (and here's a look at why the Poconos may be the perfect place to retire), you may want to consider home features that will allow you to live safely and comfortably for years to come (such as single-level living).
4. Cost
They say that people don't like to talk about money, but if you don't consider the cost of your new home, you can easily find yourself in trouble. By the way, it's not just spending too much money that causes problems. If you spend less than you should (to get what you really want), you'll find yourself dissatisfied fairly quickly. Here's a helpful post that looks at some key things to consider when budgeting for a new home.
5. Location
Where you choose to live really does matter. Even the "perfect" floor plan won't make you feel at home if you're not in the right location. Are you looking for a place that's more remote and allows you to "get away from it all"? Are you looking for a more established community? Will you have easy access to the things you want and need on a regular basis? And don't forget about having access to the utilities you need to live comfortably. The good news is that we can help you with a number of options. Click here to look at some of the existing communities where we currently build. Of course, those locations aren't your only options. We also offer home packages that include a variety of home plans bundled with the land. Click here to see some of the current options.
You can do a lot of different things to put your own mark on your new home. But before you get into finishes and color schemes, and décor, make sure you have a plan that fits your lifestyle and will meet your needs for years to come.