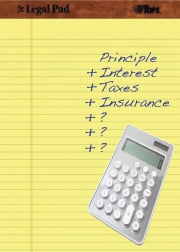 Creating a realistic budget is one of the first steps recommended for anyone considering building a custom home. You really need to have some kind of budget in mind before you start considering floor plans and construction. How do you arrive at a realistic budget? There are all kinds of home mortgage calculators available that can help you calculate what you can afford, but there's more to creating a homebuilding budget than simply principal, interest, taxes and insurance (PITI). What else should you be considering?
Often, when calculating a home loan's affordability, homeowners simply look at what they earn and what the PITIadds up to. While that's a good start, if you rely on that figure alone, you could end up being "house poor" (unable to afford decorating, improvements, landscaping, etc.).
If a free online home mortgage calculator is all you're using to figure out how much home you can afford, you may be overlooking some important items, such as:
Increasing interest rates: Most loan professionals will tell you that interest rates on homes can change in the blink of an eye. If a sudden-but-small change in the interest rates means you can no longer afford to make payments, you could be in trouble. Make sure the budget you create will tolerate small rate changes.
Those pesky fees and dues: It's easy to overlook "small" charges for inspections, homeownersassociation dues and connection fees for cable, electricity and water. Individually, they may not look like much, but they can add up quickly to a significant amount.
Unplanned events and emergencies: Nobody plans ahead to have a car accident, a mechanical breakdown, medical bills or other emergent expenses. Still, those things are fact of life. It's better to have a bit of a cushion than to suddenly find yourself unable to make payments. Allow yourself a little bit of slack.
Tax increases: The mortgage rate you look at probably figures property taxes into the equation, but a lot of homeowners have been surprised when their property taxes go up after they've been in their home for a while. If your budget is so tight that it can't accommodate those increases, you could find yourself in a jam.
Change orders: When you're building a custom home, there's a very good possibility that you will want to make some small changes to the original plan. Small, however, can be a relative term. If you make a number of changes (even if they are smart, calculated changes you discuss with your builder ahead of time), they can add up and have a significant impact on your monthly payment.
The point is, don't be in a hurry to create your budget. Think through as many of the scenarios that could affect your costs as possible. And don't make your budget so tight that any little change will push the home you plan to build beyond your means. By the way, here's another helpful post that can help you keep your building budget under control!