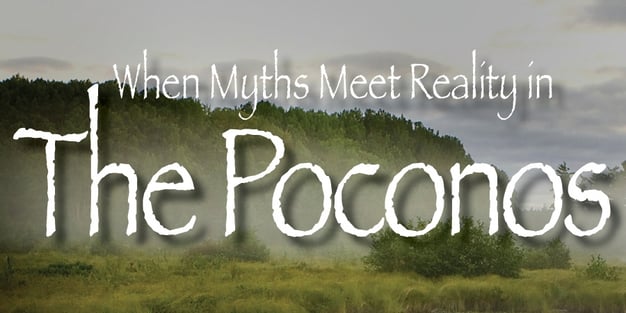 The Poconos region certainly has its share of mysteries. Like any area with a long and rich history, events of the past can become mysterious tales that grow with the telling. Here are just a few gems from local lore.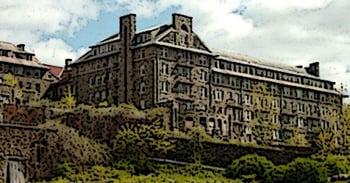 Buck Hill Inn was once a glorious 400-plus-room facility. After shutting down years ago, it became a curiosity among citizens because of alleged paranormal activity. It became so well-known that it was featured on MTV's "FEAR." On that show it was said that 73 people have died in the building—a statement that was never proven. Demolition of the decrepit building began in January of 2017.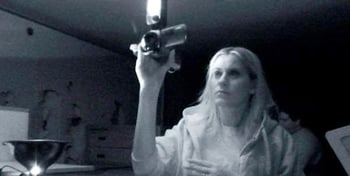 Shawnee Hall at East Stroudsburg University has its own story to tell. It's been said that many people have reported feeling strange in certain parts of the basement. Legend has it that a janitor died in the basement, and on some nights visitors can still hear his keys jingle in the darkness. It was such a pervasive legend that in 2008, the Pocono Area Anomalistic Research Society conducted a two-evening investigation of the haunting— but the video and audio captured no positive proof of the paranormal.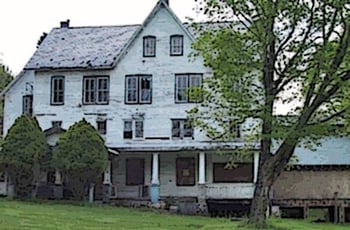 Henryville House in Henryville was a beautiful hotel that once welcomed the likes of former presidents Grover Cleveland and Theodore Roosevelt. According to legend, the hotel had been built on ancient Indian burial ground—angering the departed spirits. It was even claimed, according to StrangeUSA.com, that nine ghosts were in residence at the hotel. In later years, pedestrians passing by would slow their pace in hopes of seeing some ghoulish figures peeking out of the windows. Like many of the crumbling relics of days gone by, Henryville House was torn down. There are no reports about the relocation of the ghosts.
Not all of the myths about the Poconos focus on haunted houses or displeased and displaced ghosts. There are actually a number of myths about living in the Poconos that have been around for a while. Like the haunted house stories above, they're not really based on facts—but they tend to persist.
Here are a few of the more common myths about life in the Poconos—along with a look at the reality of the situation.
Myth 1: Winters Here Are Terrible. There is this perception that the Poconos are somehow impenetrable from fall to spring. Outsiders have the concern that if it snows, they will be trapped at home for days on end.
The Truth: It snows more in the Poconos than it does in many other parts of the country. That's one reason the Poconos are such a popular ski destination for people on the East Coast. But consider that the Poconos receives about 55 inches of snow every year as compared to Buffalo, NY, which receives, and average of more than 93 inches every year! That amount of snow is great for the ski resorts, but certainly isn't anything overwhelming. And, of course, because the region wants skiers to come here, they have an excellent system for removing snow so that visitors can get to the resorts. The Poconos also boasts a great road safety record during the winter.
Myth 2: The Poconos Region is Past Its Prime. It's true that the Poconos went from being the vacation destination years ago to a place that fewer East Coasters visited—for a while. People's image of the Poconos was of older lodges as depicted in films such as Dirty Dancing. That wasn't exactly what younger families were looking for.
The Truth: The Poconos region is in the midst of a huge resurgence as a year-round vacation destination. There are new resorts being built all over the area—backed by multi-million dollar investments. There is a lot of construction in the area on the residential side of things as well. Some people are building vacation homes here. Others are building homes where they can retire. And others are moving here with their families to escape the crush of city and suburban life.
Myth 3: There's Not Much to Do Here. For some years people saw the Poconos as kind of a "one-trick pony." If it was winter, you could ski. If it was summer, you could escape the heat and noise of the city to chill out. Maybe you could do a little fishing, or hiking, or boating—but beyond that, it was kind of a boring place.
The Truth: In fact, there is a lot to do in the Poconos at any time of year. Even activities that used to be "seasonal" activities—such as swimming and water fun—are not available year-round. There are numerous great water parks in the area (Camelbeach Mountain Water Park; Spilt Rock Resort; Great Wolf Lodge; Auquatopia; and Kalahari Resorts and Conventions—the largest indoor water park in the United States!). Click here for a closer look at some of these fantastic venues. There are great restaurants in the area as well, including two fabulous new restaurants at Kalahari Resorts: The Double Cut Charcoal Grill/Liquor Bar and Sortino's Italian Kitchen. On top of that there are also great small towns around the area with rich history—just waiting to be discovered.
Myth 4: The Poconos is in the Middle of Nowhere. It's true that a lot of people come to the Poconos to escape the hustle and bustle of the city. But somehow, the myth persists that if you move here, you'll be cut off from civilization without amenities and conveniences.
The Truth: There are plenty of nearby supermarkets, restaurants, hospitals, and even great shopping opportunities. On top of that, if you really want to, you can be in major metro areas such as New York City or Philadelphia in a fairly short amount of time.
Myth 5: It's Expensive to Live in the Poconos. It may be that because the Poconos is known for resorts and escapes that there is an assumption that this area is an expensive place to live.
The Truth: Home prices and construction costs ebb and flow in the Poconos just like they do in other regions. But if you look at the "Starting at" prices for our custom home designs, you'll see that Poconos homes are remarkably affordable. However, you should keep in mind that now is a great time to buy in the Poconos! The entire region is in the middle of a huge resurgence. That means that demand will begin to drive up prices (and, of course, the most desirable properties will be the first to go). Now is a good time to start doing your research and making plans.
Some myths are kind of fun to explore. But don't let misinformation about the Poconos keep you from taking advantage of a great opportunity to build your dream vacation home, home for your family, or home where you can retire in comfort and quiet.