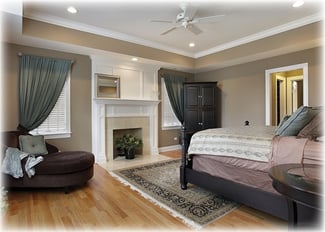 There is a good chance that nobody beside you will ever spend much time in your Master Suite. That alone is one thing that makes it so special. It's a very private and personal space. For many couples, it's a bit of a private retreat—unlike any other space in the home. So what can you do to make it even more special? Here are a few ideas.
Make it More Than a Bedroom: Yes the Master Suite is where you'll sleep, but it has so much more potential. Many homeowners also create a sitting room area within the suite where they can sit and read or listen to music or just talk—away from other distractions. Some people love creating a window seat where they can sit and read or simply enjoy the views. The area doesn't have to be huge—but it should be comfortable.
Illumination: Sure, that's kind of a fancy word for lights, but if any room deserves special lighting it's this one. Illuminating your Master Suite properly can create a wonderful ambience. Simple overhead lights can be glaring. Instead use a variety of sources to create soft light where you want it. And while CFL bulbs are more efficient than traditional incandescent bulbs, not everyone is thrilled with the light they put out. Consider LEDs that are even more efficient—and provide a much softer, more natural light.
Don't Forget the Storage: Something that adds immensely to the comfort and luxury of the room is an absence of clutter. Make sure you build in plenty of storage space—such as a walk-in closet. It may be worth it to customize your closet to get the most out of it.
To Watch or Not to Watch: Some couples love to retreat to the Master Suite to watch television. They can watch what they want without interruption and they can turn the set off whenever they want (with no complaints from the kids). Other couples don't like the idea of having a television in the bedroom because it can become the focal point of the room. One way to compromise is to "hide" the television in the Master bedroom by placing it behind an enclosure that opens with a remote. Not only does it keep the TV from dominating the landscape, it keeps someone from automatically turning it on just because it's there.
Of course it may be premature to talk about what your Master Suite should look like before you actually decide on a plan. Click here for a look at the Master Suite in our Sagewood floor plan. It's just one of the many options available to you. And as is the case with any of our plans, we can customize it to your preferences!