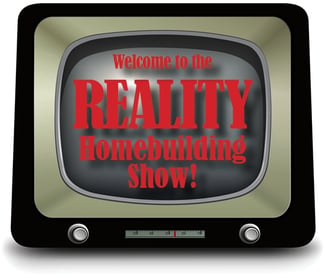 If you've ever watched some of the homebuilding or remodeling reality shows on television, you may wonder a bit about the whole process. Things can get pretty dramatic, and it seems the homeownders and builders face one crisis after another.
That may make for good television (after all, they want to keep you glued to the set so you'll watch the commercials!), but the reality of homebuilding and remodeling (and we do both, by the way) is a little different.
There are, of course, some similarities. When you build a custom home in the Poconos, you will be more involved in the process than you would be if you were buying a tract home. There are decisions you'll make about floor plans and finishes. But a lot of the "heavy lifting" when it comes to building your home takes place up front, when you meet with your builder to discuss plans and possible changes. Once construction commences, you'll stay in touch regularly—but usually by phone and/or email. You won't need to be knee-deep in sawdust all the time to make sure that things get done.
There will be times when you'll want to monitor progress and see for yourself how things are coming along. In those cases, you can simply place a call to your builder and arrange a visit. There may also be occasions when your builder asks you to come out and look at something because he's run into a challenge or he has an idea he thinks you might like.
It's great to be able to take advantage of an experienced builder's expertise. Part of the benefit of selecting an experienced builder is that they've been through this process a few times. (We've been building homes in the Poconos since 1978!) There's probably not a lot that a seasoned builder hasn't seen—and that means less drama for you.
Of course, if you miss the drama, you can always turn on the TV and watch a homebuilding show!