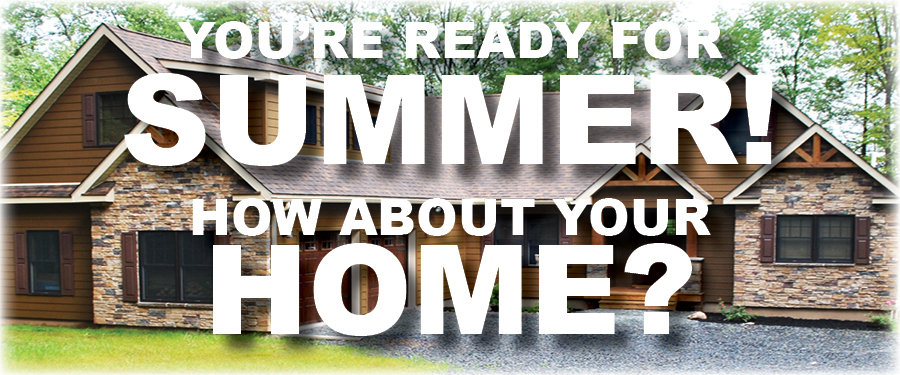 Most of us are ready for summer when it finally rolls around. We love the slower pace and warmer weather. And there are so many outdoor activities to enjoy around the Poconos region. While you may be really ready to enjoy summer, you'll want to make sure your home is ready as well. That's particularly true if you happen to own a vacation home in the Poconos that may have been empty for a while. Even if you've been here all year long, it's a good idea to do some simple maintenance to ensure your home is safe and comfortable. Here are a few tips on how to prepare your Poconos home for summer.
Give Your Air Conditioner a Checkup
Instead of fighting off the cold to keep warm, you'll want to keep cool. But the time to make sure your air conditioner is working at maximum efficiency is not when the hot weather is already here. In addition to being uncomfortable, you may find yourself waiting for a service technician to be available. So check your system out while it's still relatively cool. If you notice a problem, you'll have an easier time scheduling service.
Look for Leaks
Even if your AC is functioning flawlessly, it won't be enough if the cool air it's generating is leaking out (and hot air is seeping in). Check windows and doors to make sure the caulking around them is still sound. Winter can be hard on surfaces that need to be caulked and the cold temperatures can sometimes cause caulking to shrink.
The Battle of the Bugs (and Other Pests)
According to Jim Fredericks, chief entomologist for the National Pest Management Association, there are 10 pests in particular you can expect to see in central Pennsylvania—especially during the summer: Blacklegged (deer) ticks; house mice; German cockroaches; termites; flies; paper wasps; fleas; mosquitoes; brown marmorated stink bugs; and ants. The York Daily Record has a helpful article about how to combat each of these pesky pests.
That's why you'll want to check your screens to make sure there's no way for bugs to get in the house. You'll also want to take a look around your yard and eliminate places where standing water can collect that can attract breeding mosquitoes. Fountains and birdbaths shouldn't be a problem since the water is moving or gets changed regularly. But get rid of things that collect standing water. And checking the caulking around your doors can help to keep ants and mice out.
Change Ceiling Fan Settings
Summer is the season to change the direction your ceiling fans rotate. In the summer you'll want your fans to spin in a counter-clockwise direction (and probably at a somewhat higher speed) to move the air throughout your house.
Check Potential Water Damage
Winter weather can be rough on the exterior of your home. It's not a bad idea to have your roof checked by a trusted professional before summer rainstorms hit. And if you initiate this with someone you trust, you're less likely to have someone suggesting repairs you really don't need.
Prepare for Guests!
One of the great things about living in the Poconos is that your friends and family will want to visit. But if it's been a while since someone stayed in your guest room you'll want to give it a bit of attention. Air it out. Give it a thorough cleaning. Even though sheets and towels may be "clean" that doesn't mean they smell and feel fresh. And speaking of fresh, try to look at your guest room through someone else's eyes. Is it welcoming? Would you want to stay there? Think about redecorating the room—just to keep things fun and interesting.
Check the Deck
For a lot of Poconos residents, their deck becomes the favorite room for the summer. Make sure your deck is ready for summer entertaining. Winter weather and spring rains can cause wear and even warping of natural wood decks. Check for minor structural damage first (loose boards, deck nails or screws that are sticking up). You may want to power-wash your deck to get the winter grime off before you reseal it or treat it. You may even want to consider installing a pergola over your deck to provide some relief from the sun—without totally obscuring your view.
Returning to Your Vacation Home
If your Poconos home is a summer vacation home that you haven't been to in a while, you'll want to make sure things are ready for your arrival. One room you'll really want to keep in mind is your kitchen. If the kitchen is in order, you'll probably be in good shape for taking on the rest of the house! With that in mind, make sure the following things are either there or packed for your return.
Coffee/Tea
Coffee filters
Sugar
Creamer/milk
Salt/pepper
Essential seasonings
Cooking Oil
Vinegar
BBQ Sauce
Ketchup/Mustard
Flour
Honey
If you have those essentials in your kitchen you'll probably survive until you can make a run to the local store/market!
Originally Published 05/23/17